Hello everyone! Welcome to another day of 31 Days of Halloween! Today we're going to dive into some awesome 90s/00s Halloween Costume Ideas that will have your heart screaming with nostalgia! I'm leaving this intro short and sweet so we can dive right into the costume ideas! Just want to give a quick disclaimer that I tried my best to give credit to all the people in these photos and I apologize if a link or photo is incorrectly credited (also I am not promoting any of the photo captions that may lead you to shopping website. Shop at your own digression, I am just giving them photo credit)!
15. Recess!
This show was iconic first of all. And second of all, it's great because this idea could easily be a stand-alone, couples, or group costume! Rock the Spinelli look or go for the full Recess squad! Love it!
14. Zenon & Nebula
Guyssss you have got to check out this girls site! She has some insanely amazing costume ideas and tutorials that will make any 90s/00s kid's heart sing! I love how detailed she gets and is able to create costumes that won't break the bank! Definitely check out her unreal Zenon & Nebula costume along with all of her other ideas on her website, Color Me Courtney, here!
13. Ms. Frizzle!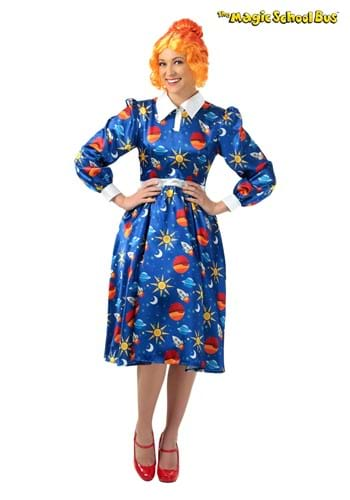 Honestly, I feel like this is another costume idea that could easily go from a stand alone to a couples or group costume! Ms. Frizzle is obviously the OG, but you could easily add in Liz as a couples piece or the full School Bus Crew!
12. Freaky Friday
LOVE this idea! I wouldn't have even thought of this yet if I saw her walking down the street I would know exactly who she was dressed as! Could easily be a friends costume too if you throw Tess into the mix! Check out Emily Elizabeth's YouTube video for other great nostalgic costume ideas and tutorials!
11. Tamagotchi
Wow just seeing this brought back so many memories! Love the creativity and time that clearly went into making this awesome costume! Someone just make sure to feed her throughout the night, we know how touchy those Tamagotchi's are if they aren't treated precisely right!
10. Rocket Power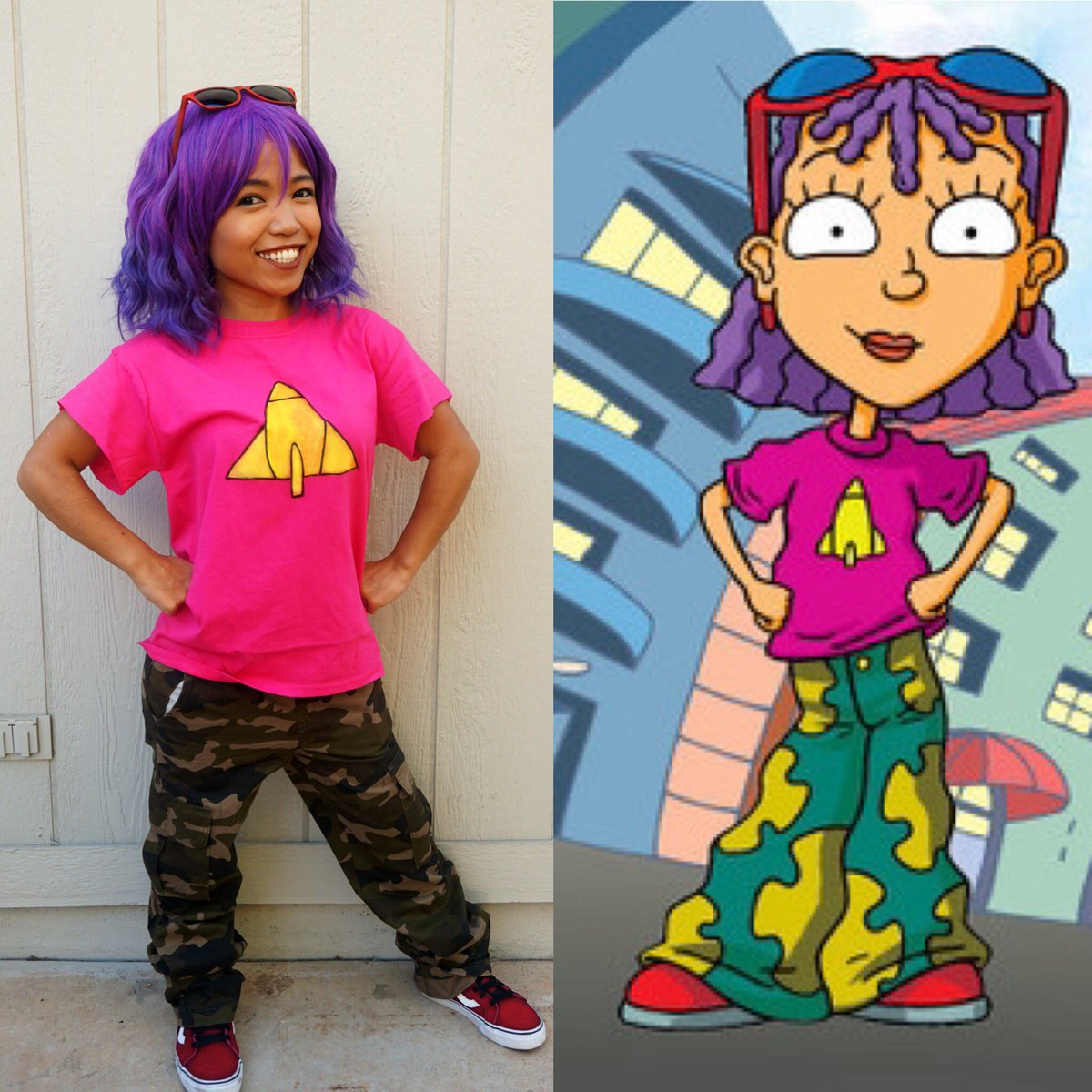 First of all, check out how amazing this girl's Cosplay Twitter is. Second, this show was such a vibe. Loved this show and always dreamed of having purple hair too.
9. Bop It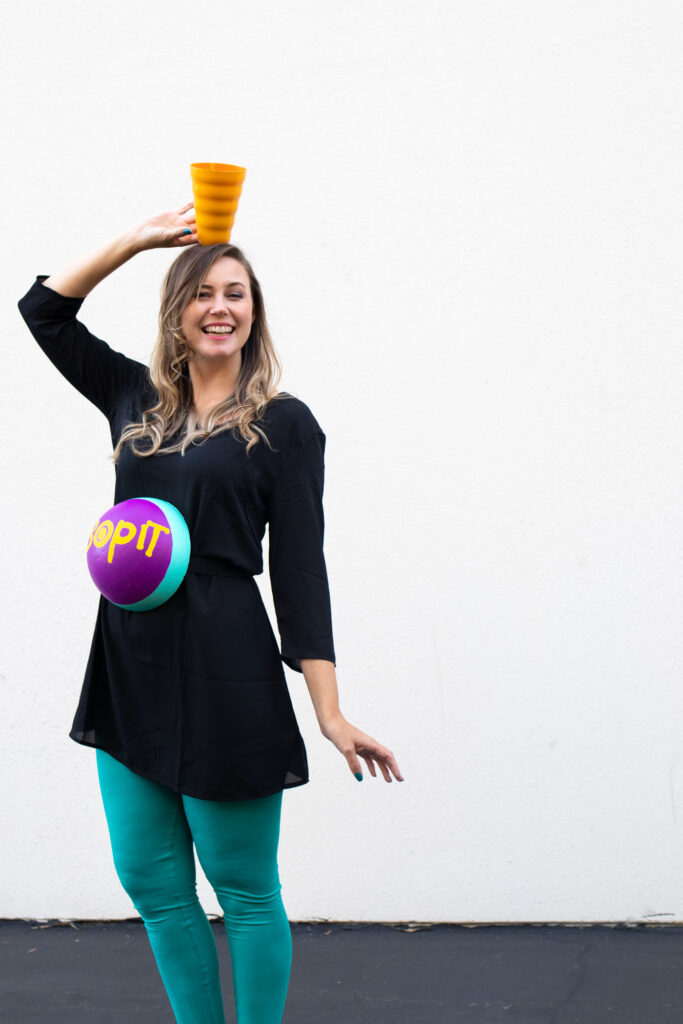 This game will never not be addicting, even to this day. And get a group in on the game? Then let the competition begin! Love how creative and crafty this DIY costume is!!! Check out Club Crafted's site for more awesome DIY ideas as well!
8. Troll Dolls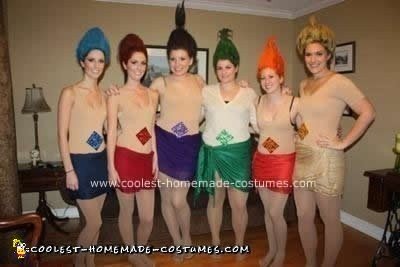 Grab your closest friends, don't fight over color choices, and check out how to make your own DIY Troll Doll costumes!! Also love everyone's hair in this picture, that's true costume dedication.
7. The Parent Trap
Love this idea!!!! And it's so versatile too! Have a sibling or even a twin? Or maybe you just have a sister from another mister? This is a great Halle and Annie costume idea! Plus you can easily expand on the idea like these three did and throw Meredith Blake in there for good measure! Love it! Check out Kindly Cait's DIY costume on her website!
6. Polly Pocket
Tell me this Polly Pocket DIY is not the cutest idea you've ever seen! I love how it really brings it back to the OG Polly Pocket days too when Polly literally could fit in your pocket! Check out Vanessa's Costume-How-To on her website, Brite & Bubbly, here for a full tutorial on this insane costume creation!
5. Rugrats
I loveeeee this Cynthia and Angelica combo! What a creative concept and unique to the classic Rugrats look!
4. Legends of the Hidden Temple
Awesome idea for a dynamic duo or a full on crew! Plus a super easy costume to DIY! Which team are you rooting for?
3. Beanie Babies
Wanna be dressed up and cozy all night on top of being down right adorable? Or maybe you're going to be outside in the chilly October air? Then this costume idea is perfect for you! Grab a onesie, make a tag and BOOM, you're a Beanie Baby! How much do you think you'll be worth on eBay?
2. Double Dare
Oh my gosh guyssssss. Do you remember this show!? I literally dreamed of being a contestant when I was younger. I would balance stuff on my head all the time for practice and also just to prove to everyone around me how elite I would be in the game. But at the same time, I think every 90s and early 00s kids' dream was to either get slimed or compete with it! Also I highly recommend checking out Laura's blog post that connects to this picture because it also has some other hilarious costume ideas as well!
1. This Dude That May Still Haunt You
Not even going to lie, not sure if this would make a 90s/00s kid laugh, cry, or just make you downright angry.