Time for yet another nostalgic rendition of old Disney games! This time we're going to feature some of the good ol' OG games from disneychannel.com. Before it was all simple and easy to play games that many young kids know now, there was REAL GAMES. Games that tested not only your mind, but mainly your patience. So let's take a stroll shall we?
20. London's Suite Styler
Were you a Savvy Schoolgirl? Or maybe a Glam Diva? Whichever your end style decision was, one thing was for sure, all of the styles made you want to shout "YAY ME." London's Suite Styler was the epitome of 2000s fashion statements with the help of avid 2000s fashion guru London Tipton. The Suite Life of Zack & Cody was a truly iconic show hands down.
19. Bueno Rufus
Anyone else dream of going to Bueno Nacho as a kid and trying all those amazingly cheesy options Ron was always eating? Something about two dimensional melted cheese really just seemed like it would hit the spot with my taste buds. Anyways (now that I'm drooling thinking of nachos), lets remember this gem that was very similar to making a pizza on club penguin. Bet you can't get the naked mole rat song out of your head now. You're welcome.
18. Lizzie & Miranda's Outfit Dress Up
Of course you had to help out your good pals Lizzie & Miranda get ready for school! Being the fashion icon you are (basically London Tipton), it was uber important to make sure Lizzie and Miranda went to school looking flawless. I mean Kate couldn't see you hanging out with them otherwise right??
17. Tipton Trouble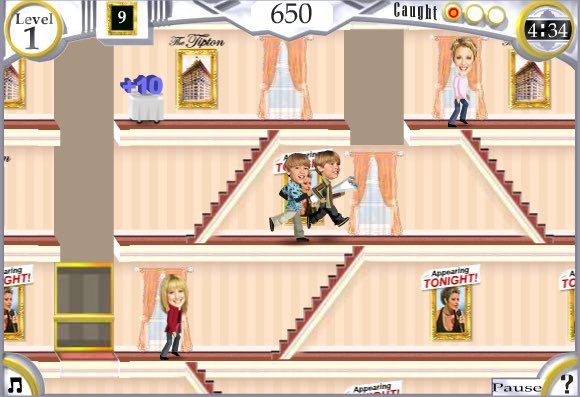 Whatever you do, DON'T GET CAUGHT. You'll see this is a trend when it came to most Zack & Cody games. But considering those mischievous twins were royalty when it came to sneaking around causing mayhem, can you blame the game creators? The only part I found super strange was the whole point of the game was them going around hanging up posters of their mother's performance yet if you ran into Carey you were in big doo doo. Wouldn't she appreciate the effort? No? Cool Carey.
16. Kim Possible's Card Clash
So basically it's the card game War but with Kim Possible characters replacing the well-known card deck icons. I know, from the description it sounded a little boring, but honestly something about beating villains at a card game was so addicting. Plus I loved how you could pick between a villain deck or a hero deck and seeing what character replaced each card deck icon. They moved too!
15. Miley's Malibu Manicure
GET THEM NAILS JUST RIGHT GIRL. Not only could you pick from basically every shade of every color from the rainbow, but patterns too!? Wow Disney technology was clearly too advanced for my young mind to handle. Basically you made Miley and Lilly's nails look like works of art while your Ellie brand nails were still chipped.
14. Maggie's Germy Roundup
By far the strangest concept Disney has come up with in terms of a TV in my opinions. Although there was Dave the Barbarian and The Replacements at this time too… Disney was feelin some sort of way clearly. Anyways, basically Maggie the fly who just wanted to be a rock star, also loved pets, that is until they were released all over her little buggy town. This game was a super fun almost Mario-style game of rounding up all the germs and bringing them back home.
13. Sticky's Mix Master
Bejeweled with the Proud Family, nuff said. Bring it on Sticky.
12. Raven Pinball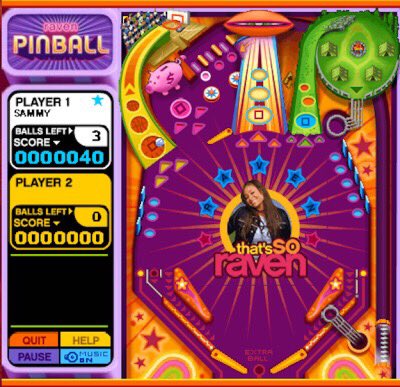 Remember that old Pinball game that use to be on computers with the random space theme? Basically Disney was like hey that's popular, but ya know what would make it more popular? Slap Raven's face on there. Boom. Raven Pinball.
11. Magic Curse Reverse
This episode of Wizards always use to give me the heebie jeebies and honestly I don't even really know why. I think it was the idea of sea monkeys in general always gave me the willies. Like little creatures you could barely see but are swimming around, like no thank you. Anyways, basically Alex being her usual self, accidentally turns everyone into Sea Monkeys and you have to beat each level to turn everyone back to normal.
10. Jackson's Beach Treat Delivery
JACKSON WHERE'S MY ICE CREAM!? Welcome to a day in the life of Jackson Stewart Diner Dash style. Make sure everyone gets their orders on time before they get too angry! I know Lilly doesn't like it when she waits too long for her ice cream!
9. Brandy Style Diva
What was I thinking saying that Maggie the Fly was the strangest concept on Disney Channel. Like how does one forget about Brandy and Mr. Whiskers. Or maybe my mind had the right idea to forget about it. When it comes to strange this show certainly had it all, a dumb bunny with a good heart and a rich heiress dog land in the jungle with no way of getting help. Somehow that turned into them making friends with some unlikely jungle pals and host fashion shows?? Sure. Makes sense I'd say.
8. Alex's Double Maze Craze
THIS GAME WAS SO HARD. It was a maze game, but there was two Alexs and dual screens! On one side I'd think I was rocking it through the maze, only to look over and see the other Alex has been bashing herself into a bookcase for the past five minutes. Your arrow keys controlled both Alexs, AT THE SAME TIME. Ugh. I can still feel the underlying anger about not being able to beat this game bubbling up inside of me.
7. Cowabunga Candace
I think my biggest childhood accomplishment was making it on the leader board for this game back in the day. Remember when Disney Channel would post the highest scores for everyone else to see? Yup. I was on there. Like number 23 come at me. Lol. This game was like the older version of Temple Run in a way. Basically you collected the row of points without hitting the debris or friends wading in the water! It was Club Penguin Mine Cart level addictive.
6. Kim Possible: A Sitch In Time Pt. I
So fun but soooo hard. I never made it past level one because my uncoordinated butt always fell on some sleeping kid without fail every time. I think I'd make it over like the first set of blocks and fall. I remember my friend would always be a pro at it and I was amazed at how she was capable to keep going without fail!
5. Corey's Money Maze
The Corey version of Tipton Trouble yet somehow more fun in my mind? Clearly from a young age I was like Corey and knew the benefit of some good ol' piggy bank change.
4. Hannah Montana's Rockstar Fashion Challenge
I was such a fashion designer game her. I loved not listening to what the game told me to find in Miley's closet and dress her up in what I THOUGHT would look best on her. Because clearly my eight year old self knew fashion more than the Disney Website duh. Had to look fly before that limo hit to go to the concert amiright.
3. Kim Possible's Shopping Avenger
Yup. Another shopping game. Told you I had an addiction. This one was more fun because it was slightly more interactive. Like girl you like that astronaut outfit? Well they you better be ready to WORK for it. In typical Kim Possible style, you had to do some flips, jumps and hops to get your top, bottoms and accessories. So fun.
2. 625 Sandwich Stacker
What is it about making food on a virtual level that is so dang appealing. I always dreamed of making the biggest sandwich humanly possible when it came to this game. Usually my main downfall came when my sandwich was so tall it didn't see the boot or moldy cheese falling onto it because there was so little top of your screen left. Disappointing when you toppled.
1. PIZZA PARTY PICKUP
NOW FOR THE GRAND FINALE. THE. BEST. GAME. DISNEY. CHANNEL. HAD. TO. OFFER. WOW UGH. This game actually game me life because it was so hard once you got to like level six yet my small self was DETERMINED to have the best pizza party known to man. Also like why was Maddie and London always wearing little virtual dresses? Anyone else always pick Maddie?? So many questions. Who doesn't remember to good old noise of grabbing that boombox before the elevator key or getting busted for that third time and just wanting to cry. Wow, the best of times truly.
And just like that we've wrapped up yet another nostalgic rendition of Disney games! I hope everyone enjoyed! Let me know what nostalgic things you'd like to see on here next in the comments below!