Since yesterday was dedicated to meals, I decided to dedicate today to spooky appetizers! I'm doing this because while hunting the internet for dinner recipes, I realized just how many awesome Halloween appetizer ideas there are! Plus let's be real, when you go to a party (or really any holiday get together for this matter), odds are you'll get full off appetizers before dinners even ready. Appetizers for the win. Now let's dive right on in!
10. Skull Deviled Eggs From Nick Iverson On Taste Of Home
Not going to lie, I get a little bit more Jason vibes from these deviled bad boys, but regardless the spooky factor is clearly there! Check out the full recipe and how-to video by Nick over on Taste of Home's site here!
9. Halloween Spinach Dip From My Food And Family
I swear any type of appetizer dip is my unhealthy addiction (as we learned from the buffalo chicken dip in my last post). I say 'unhealthy' because I could easily eat an entire batch of dip on my own if unsupervised. But hey, that's what the holidays are all about! Anyways, check out this awesome mummy spinach dip over on My Food and Family's site here!
8. Spooky Spider Halloween Hot Dogs From Fabeveryday On Allrecipes
I don't know about you guys, but when I search Halloween appetizers, I am immediately bombarded with adorable pictures of pigs in a blanket mummies. Don't get me wrong the idea is insanely cute and easy, but I already posted that idea in an article from a prior 31 Days. But after some searching I found these cuties! If you want to branch out from mummies, why not try spiders! I love this idea! For the full how-to by Fabeveryday, check out Allrecipes's site here!
7. Halloween Cemetery Dip From Mommy's Home Cooking On Tbsp.
I think it's literally impossible to go wrong when you have pizza rolls in the recipe! Especially when you have pie crust, dip, and pizza rolls ALL in one dish!! Sign me UP. Check out this ghoulishly awesome recipe by Mommy's Home Cooking over on Tbsp.'s site here!
6. Jalapeno Mummy Poppers From Old World Garden Farms
This one's for all my spicy lovers out there! I can't take the heat but these were too cute to pass up on! Check out these poppers that may just have you crying for your 'mummy' over on Old World Garden Farms's site here!
5. Halloween Spider Bites From Sugar n' Spice Gals
I may not be the biggest olive lover, but I would definitely try these little guys. Anything involving cheese and crackers is bound to be delicious! For the full how-to on these itsy bitsy spiders, check out Sugar n' Spice Gals's site here!
4. Cheesy Monster Dip From Easy Cooking With Molly
Another great example of cheesy, spooky goodness. I love the creative eyeballs in the dip and this is definitely something I want to attempt on my own! For the full 'eye-opening' recipe, check out Easy Cooking With Molly's site here!
3. Bones and Blood Halloween Appetizer From Around My Family Table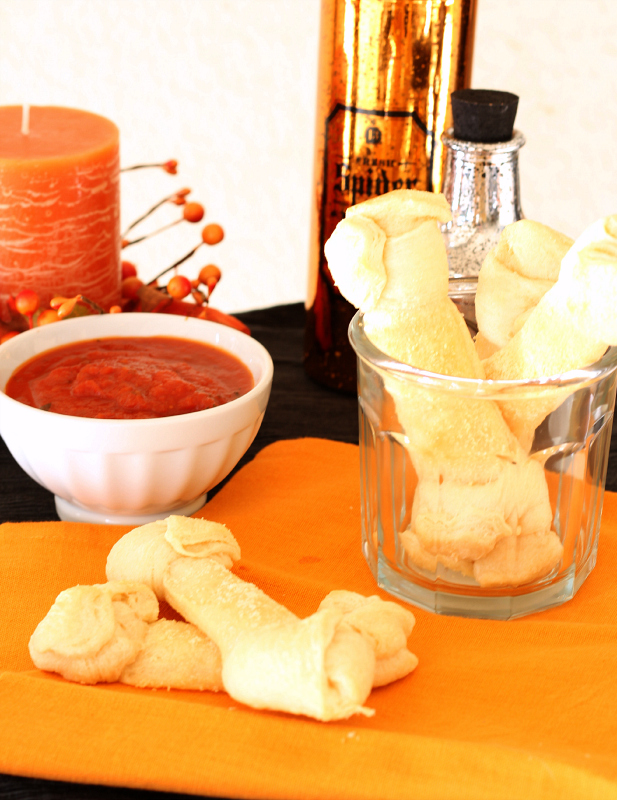 Homemade cheesy bread is always another winner in my book. I love the idea of simply turning the breadsticks into bones for a chilling twist on a classic appetizer! For the full inspiration and how-to, check out Around My Family Table's site here!
2. Pepperoni Pizza Pockets From Dinner At The Zoo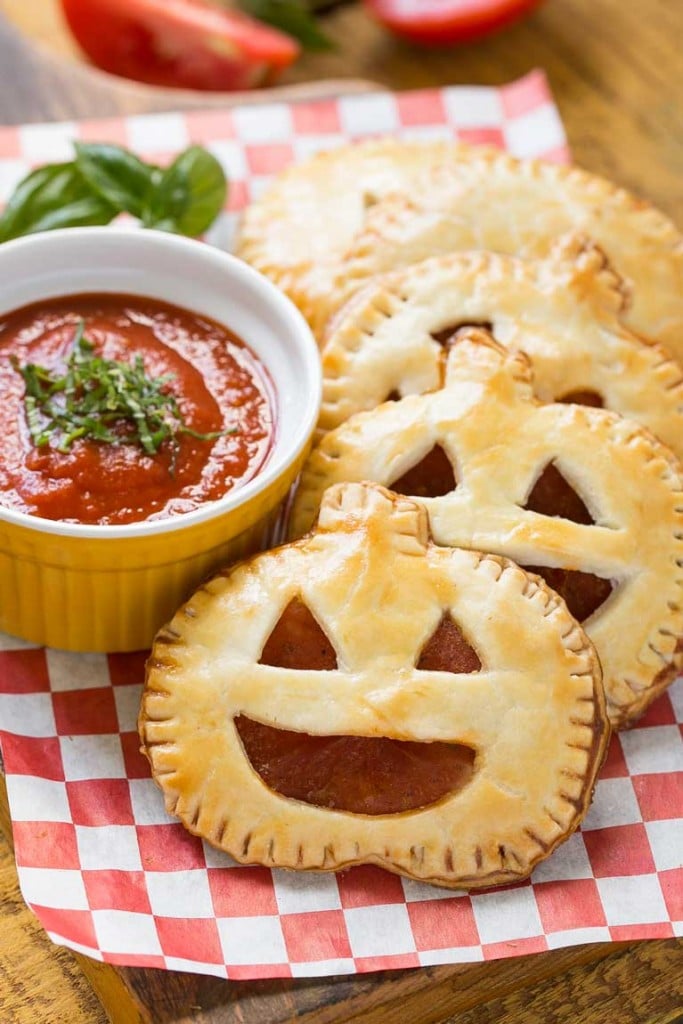 How cute are these smiling little Jack-o-Lantern faces!! Such a fun way to get extra crafty in the kitchen and with room for your own ideas to add in! Make all different faces with your imagination at play! For the full recipe, check out Dinner At The Zoo's site here!
1. Bloody Brain From Martha Stewart
What a crazy concept to turn shrimp cocktail into brain matter! I also love the video on Martha's page because Brendan Fraser helps her create this gruesome centerpiece. I highly recommend checking this article out and take on the challenge of bloody brains if you think you're up for it! For the full video and how-to, check out Martha Stewart's website here!