Good Morning Everyone! Apologies for the long weekend break! It been busy! Anyways, today we are going to look at some awesome Halloween inspired dishes that will make anyone feel extra spooky! Since I have created a post similar to this in past years, I tried my best to find some new ideas to share and tried not to overlap! Enjoy!
10. Bloody Hot Dog Fingers From Crafty Morning
Great for the picky eaters with a nice ghoulish twist!! A super easy meal to make that definitely looks creepy. Check out the full how-to on Crafty Morning's site here!
9. Frankenstein Pasta Salad From Sara's Veggie Kitchen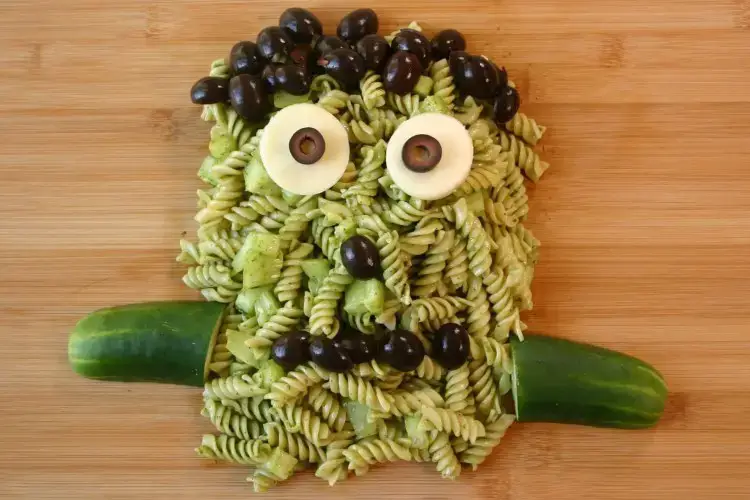 I love the creativity here! Who said playing with your food is a bad thing? I applaud those who go the extra step to make their meals even more festive like this! For the full instructions and how-to by Sara's Veggie Kitchen, check out their site here!
8. 'Candy Corn' Chicken Quesadillas From Boulder Locavore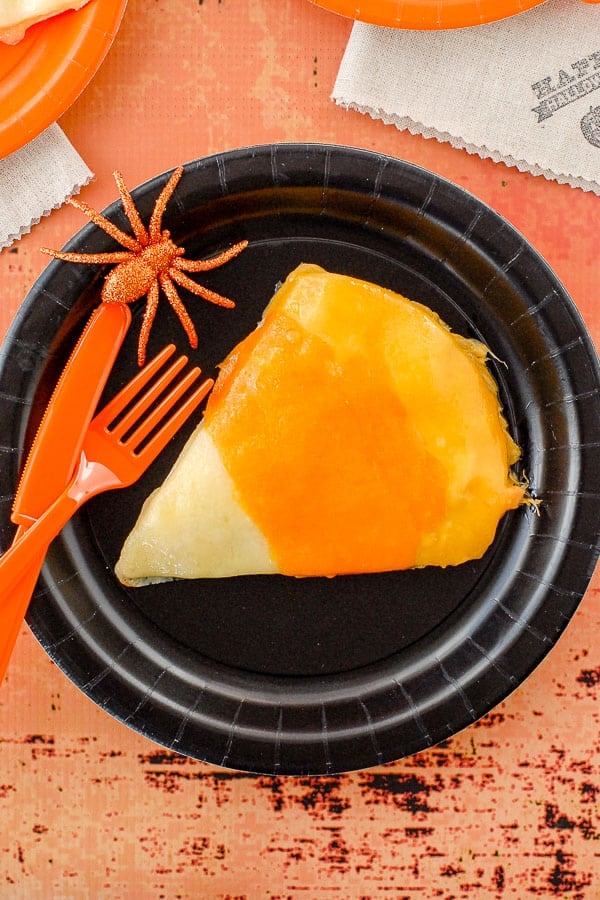 First of all: YUM. Second: Oh. My. CHEESE. And Third of all: YUM. This looks like the most festive cheesy slice of heaven I may have ever seen. The pictures alone are making my mouth water. I love how simple yet satisfying this idea is!! Check out this festive cheesy goodness over on Boulder Locavore's site here!
7. Eyeball Pasta From Rian Handler On Delish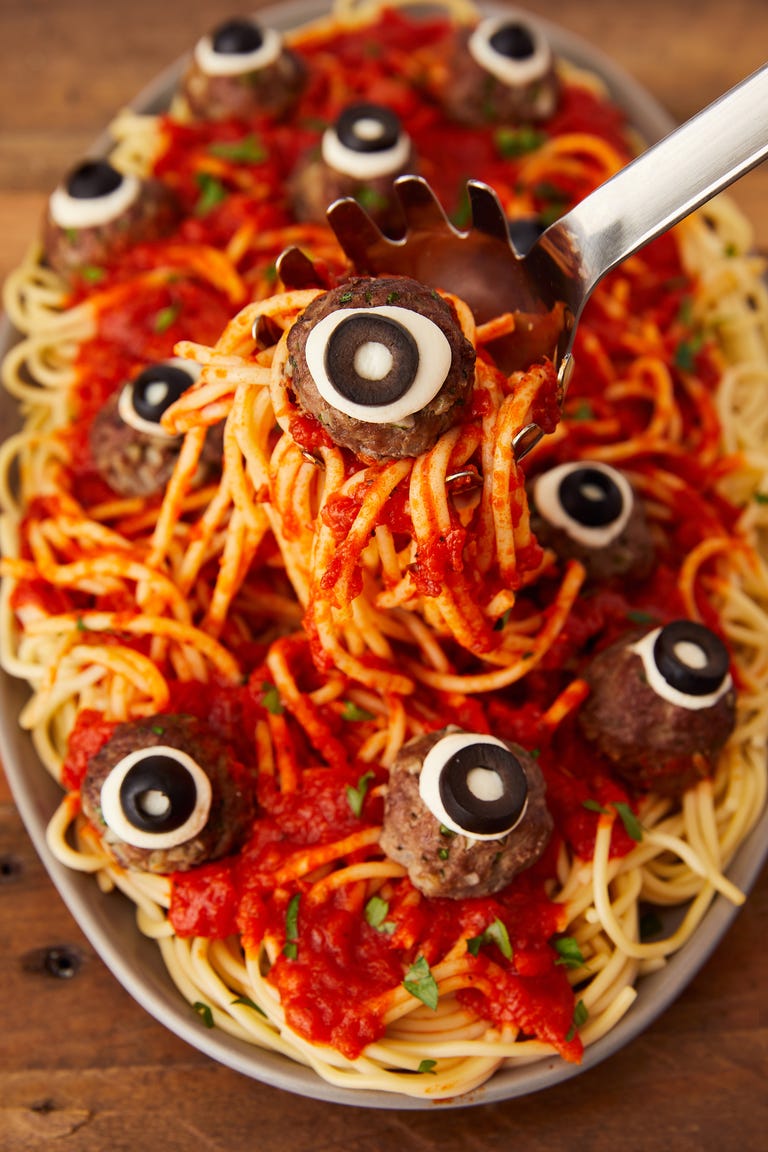 A simple recipe with a simple spooky twist that the entire family can enjoy! A great meal to make for a smaller crew or a crowd! Just make sure everyone gets their own eyeball so there's no fighting! Check out this spooky eyeball pasta by Rian Handler on Delish's site here!
6. Chicken Potpie with Crawling Hands From Woman's Day Kitchen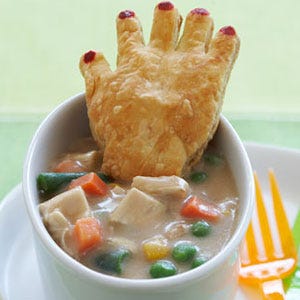 Who doesn't love a good chicken pot pie?? I really love how they went above and beyond and added 'nail polish' to crusty hand! For the full recipe and how-to, check out Woman's Day's site here!
5. Deep Dish Pizza Pot Pie From Spabettie
Another great pot pie recipe for all those pizza lovers out there! I love the creativity and addition of the Jack Skellington face on top! For the full recipe and how-to, check out Spabettie's site here!
4. Pumpkin Sushi Rice Balls From TESCO Real Food
I love sushiiiiii. What a great idea! I feel like this recipe may be for the more experienced dinner makers, but I would certainly attempt it regardless! The seaweed jack-o-lantern toppers are a ghoulishly adorable touch! For the full recipe, check out TESCO Real Food's site here!
3. Silly Monster Sandwiches From Jordan's Easy Entertaining
Love how creative and simple this idea is! It also leaves a great amount of room for the imagination to mix and match faces and fillings! Check out Jordan's video above and Jordan's Easy Entertaining's site here for more awesome ideas!
2. Meatloaf Mummy From Sonali Hindmarch On Made For Mums
Tell me this is not the CUTEST mummy you've ever seen! It's so cute I could eat it right up; and in fact, you can! Check out the full recipe by Sonali Hindmarch on Made For Mums's site here!
1. Halloween Buffalo Chicken Skillet Dip From Hannah Williams On Tasty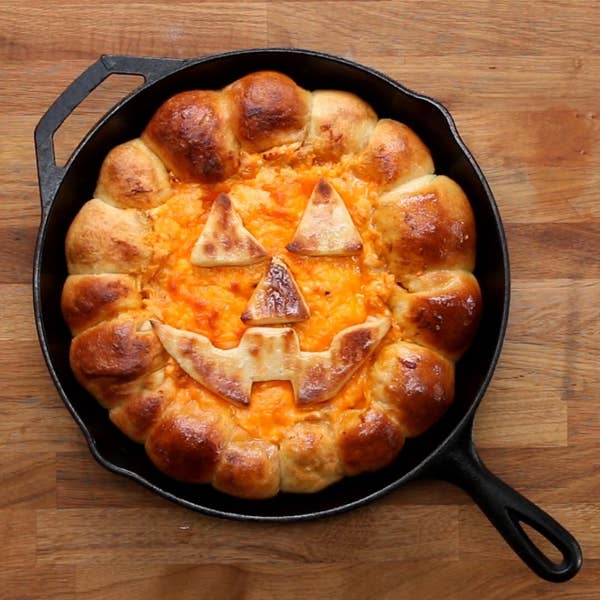 Had to finish with this adorably delectable appetizer! Buffalo chicken dip is probably one of my top weaknesses, add some festivity to the mix and now I can't hold back. I'd probably eat this whole skillet alone. Check out this adorable recipe by Hannah Williams from the Tasty Team on Tasty's site here!