Anyone in the mood for a sweet treat? Yes? Perfect! One thing I love when it comes to Halloween is just how creative people become with food! The vibrant colors, the gruesome pairings, and the candy filled delights, desserts are a HUGE part of spooky season. It is so fun to google ideas to get inspiration for my own desserts! So today, I decided to compile a small list of some really creative and imaginative Halloween desserts to give everyone that eery inspiration! I plan on doing another article specifically about Fall/Halloween cookies because I feel like they can easily fall into their own category due to how much inspiration I found online. But until then, enjoy these desserts and links to their recipes!
10. Halloween Fudge From Crazy For Crust
Talk about some festive fudge! I love candy corn and this is a great Halloween twist on a classic dessert! The orange topping is such a great eye-catching touch especially with a small candy corn to top it all off with! For the full recipe on how to make these bite-sized treats, check out Crazy for Crust's site here!
9. Spooky Boo Brownies From Betty Crocker Kitchens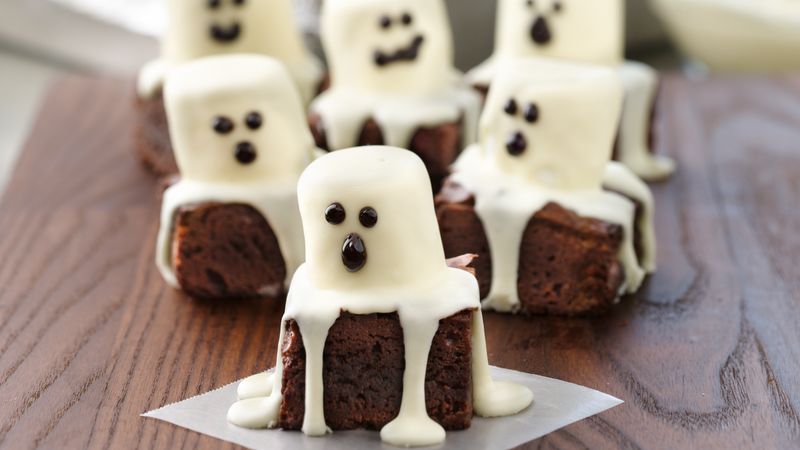 If you're looking for an easy project that will still give off those spooky vibes, then these brownies are perfect for you! I love how cute these little ghosts are and so simple to make! Check out Betty Crocker's Kitchen for the how-to on this recipe here!
8. Spooky Monster Mash Trifle From Everyday Gourmet with Blakely
Absolutely LOVE the colors on this trifle! The whole thing screams Halloween! I also love the eyeballs throughout the glass holder, it adds that extra touch of scary that is perfect for any party! Check out the full recipe by Everyday Gourmet with Blakely on their site here.
7. Halloween Rocky Road Slices From The Flavor Bender
What could be better than a bunch of different kinds of Halloween candy melted together with eyeballs and gummy worms on top?? The answer? Nothing! Check out this super creative way to make use of all that leftover candy! Check out The Flavor Bender's site here for the recipe!
6. Spooky Halloween Dessert From My Food And Family
This recipe definitely seems a little more advanced compared to some of the others on this list, but for anyone willing to tackle the challenge you won't be disappointed! This recipe, just by the look of it, is clearly 'to die' for. See what I did there. ANYWAYS, check out the full recipe by My Food and Family here.
5. Halloween Brownies From Confetti & Bliss
Another great and simple twist to a classic dessert. Want to get festive but not sure how? Just add some of your favorite Halloween treats to a basic brownie mix! Super easy and fun to make! Check out Confetti & Bliss's site here for the full inspiration!
4. Candy Corn Oreo Truffle Bark From Bread Booze Bacon
3. Ghoulish Monster Halloween Cupcakes From Kleinworth & Co
Adorable and easy! Create a gory scene with a simple cupcake! Yum!!! Check out the full recipe from Kleinworth & Co here!
2. Brain Panna Cotta From Vintage Kitty
Definitely a little more advanced when it comes to dessert making, but it also will definitely be a treat no one else brings to the party! Panna Cotta itself tends to be a unique treat and by turning it into a ghastly scene, you're sure to be a hit with this one! Check out the full recipe from Vintage Kitty here!
1. Jell-O Witch's Stew Cauldron From Mom Foodie
Can't go wrong with green Jell-O in little witch cauldrons! These tasty individual treats would be great for a kids party! Check out the Mom Foodie's site for the full recipe here!