BACK TO THE MAJOR NOSTALGIA. Welcome back to my usual posts now that the holiday season has officially (sadly) come to an end. You all know I live for a good nostalgic trip down memory lane and I love focusing on toys that I use to have. So for today, I decided to go back down the good ol' Barbie route with 15 Barbie sets you DEFINITELY had (or will at least know of) if you were a 90s/00s kid. Enjoy!
15. The Barbie Living Room
With VHS Tapes and Stereo included!! Talk about hi-tech!
14. Barbie In The Nutcracker Dolls
One of the BEST Barbie movies next to Rapunzel, Swan Lake, and Princess & The Pauper.
13. Barbie Rapunzel Dolls
Throwback to the original Barbie Rapunzel look that was utilized in the best over Barbie storybook computer game. Then of course the Barbie Rapunzel movie version where she had some AMAZING painting skills to create her own gowns! Wow the memories are REAL.
12. Mystery Squad Barbies
Come help solve the mystery with Barbie and the gang! I had the Barbie: Night Vision Specialist and am only now realizing she was part of a full crew and play set! Talk about missed imagination opportunities here. I always dreamed of being a spy.
11. Barbie Princess & The Pauper
Another one of the great Barbie movies before they slowly started to become more mainstream and go downhill. My personal opinion of course.
10. Midge & Baby Set
Okay my cousin use to have this doll set and in my personal (once again) opinion I really don't see why it needed to be recalled. It was completely harmless and didn't ACTUALLY show how a baby was born (or conceived for that matter) if anything I feel like it was a great way to explain to a soon to be big sister or brother what was growing in mom's tummy! Plus the magnetic tummy was fun to play with.
9. The Spice Girls
The Spice Girls were the absolute IT girls (and still are in many eyes) of the 90s and early 00s, so naturally Barbie had to immortalize them in doll form! Everyone freaked over the Barbies and loved to represent their favorite spice girl by buying their doll lookalike!
8. ALL The Old Disney Barbie Dolls (Enjoy The Slideshow)
Okay I literally had like ALL of these. The ones I had were: Sleeping Beauty, Cinderella, Snow White, Jasmine, Belle, Prince Charming (my brother broke the head off of), Jane & Tarzan (also decapitated), Esmerelda, Ariel, Tinkerbell, Mulan, Pocahontas, and probably SO much more.
7. Teacher/Classroom Barbie
One of her more memorable professions.
6. Barbie Generation Girls
DID ANYONE HAVE THE GENERATION GIRL GOTTA GROOVE COMPUTER GAME TOO!? WOW. The nostalgia right now is UNREAL.
5. Pajama Fun Skipper
I use to LIVE for using the real working mini magic eight ball it came with and wished I had the same bathrobe.
4. Barbie & Kelly Fun Treats
I literally always wanted to eat the commercials mini treats that they made in the oven. Something about them always looked SO appetizing, but in reality it was Barbie's version of an Easy Bake Oven. If you don't believe me look up the commercial where they out the sprinkles on the pink iced cake for YOURSELF. Your mouth will be watering after it guaranteed.
3. Barbie Baby Doctor
2. Barbie Ballerina
I use to LOVE this play set and making my Kelly doll dance (and of course make sure she's at dance practice on time).
1. The Barbie Dream House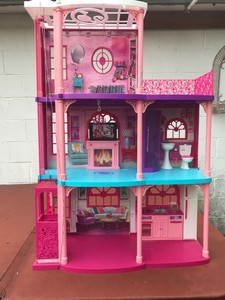 How could I NOT save the best for last. Talk about the Christmas present dream of almost every child back in the day. Maybe even still today? I don't know what kids play with now a days since they're too sucked into electronics!