WELCOME TO PART 2 OF POLLY POCKET DAY. For this post we are focusing on the individual polly pocket outfit packs or fashion packs that came with mainly dolls and clothes. Some of these packs were some of the first every made when it came to larger Polly Pockets and once again my mind is SCREAMING nostalgia. I swear I had like all of these which we all know meant lost rubber shoes still being found TO THIS DAY in my house. Anyways, I hope these posts make you feel as nostalgic as they make me feel! ENJOY!
16. Polly Pocket Trendy Townhouse
Such a great start, I remember using the container it came in as the townhouse where I would put all of the furniture. It was one of my firsts! Plus look at those double ponytails, talk about FASHION.
15. Polly Pocket Fashion Costume Sets
I literally had ALL of these and would freak out every time I got one! I had a HUGE imagination as a kid and these bad boys came out every year around Halloween. I would get so excited that my Polly Pockets could transform into royalty or mystical beings. It led to so many new mini storylines in my head for play time.
14. Polly Pocket Holiday Collections (Christmas)
As you all know Christmas is extremely important to me and my Polly Pockets ALWAYS loved to celebrate when the Christmas decorations came out. These outfits allowed my Polly to get into the festive spirit!
13. Polly Pocket Pajama Jam
Another one of the firsts that I got! I swear I use to find a random bunny slipper and that random bunny stuffed animal everywhere.
12. Polly Pocket Dare To Hair Sets
I thought the idea of crimping (such an early 00s thing) was fun, but after I lost the crimper it just turned into wild hair sticking straight up. Safe to say I didn't use this Polly for too long plus the clothes weren't rubber.
11. Polly Pocket Dance Night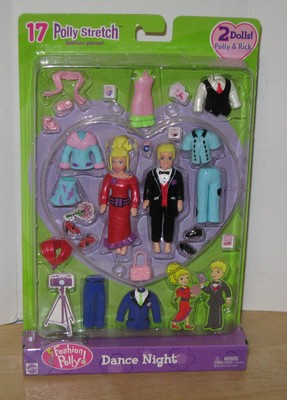 One of my first boy Polly dolls and I LOVED the clothes he came with that made him look all fancy. It was all fun and games until my brother broke his head off (this became a constant when I got a new Polly Pocket that was a boy).
10. Polly Pocket Hip Style Dressing Room
That wardrobe was the HEIGHT of fashion especially with that purple outfit and matching shoes. I LOVED that outfit and this girls perfectly straight hair (until I ruined it of course).
9. Polly Pocket Rainy Day Sets
I loved these packs because they came with the umbrellas but also the taller boots were harder to lose and easier to find in my Polly Pocket bin.
8. Polly Pocket Swim Party
Barely any of this actually had to do with swimming but I loved the mini rollerblades.
7. Polly Pocket Movie Night
I loved this one once again for gaining another Polly dude and new outfits for my Polly dudes. I think this is literally one of the ONLY Polly dudes my brother didn't break the dead off of.
6. Polly Pocket Cool Career Sets
I loved adding to my imagination by creating careers for my Polly Pockets and these packs really let me emphasize that imagination. From nursing to cooking, artist to fashion model, and lifeguard to doctor, the possibilities were basically endless.
5. Polly Pocket Winter Cool Sets
Of course my Polly Pockets HAD to bundle up during the winter months here in Massachusetts to these little mini sets were a must. I also loved the snowboard and the snowboarders hair it was so early 00s.
4. Polly Pocket Totally Trendy & Day To Night
The girl on the left was definitely one of the first ever packs I got when it came to Polly Pockets. I specifically remember that bear, nightgown, and robe. Plus that doll once again rockin the double Ponytails. I honestly think I've found this doll recently too she was one of my favorites.
3. Polly Pocket 2 Cool For School
I remember being so confused as to what the rubber pom poms were until I started cheerleading. I also remember being completely confused by the leg warmers. What a time.
2. Polly Pocket Hip Style Fashion
This is definitely one of the like second of third packs I have ever got from the Polly Pocket Brand. I completely forgot how they use to all come in these little see-through plastic zip-ups. I probably still have these zip ups hiding somewhere around the house. I also specifically remember this doll, her outfit, and the outfit on the right with the purple, yellow, purple, and blue layers. FASHION.
1. Polly Pocket Dance World
SAVED THIS ONE FOR LAST BECAUSE THIS WAS THE FIRST EVERRR POLLY POCKET SET I GOT. Wow I'm just about ready to cry. Pretty sure I got it as a birthday present in preschool and it started the obsession. I use to LOVE putting my doll in her tutu and putting her shoes in the dance bag to go to 'dance class.' I also thought the doll in that green dress looked like Tinkerbell which we all know is my FAVE. Ugh what great memories.