Okay guys. We're all stuck inside so why not take it back to a happier time? Why not remember some TV shows you definitely forgot about?? Then if you want to take it a step further, you could try to find them on YouTube or something after just to pass more time! Anyways, time to relive some awesome shows and some very strange shows that still live in the back part of our brain. ENJOY!
25. Brace Face (2001-2004, 3 Seasons)
I actually loved this show. Basically it's all about a girl named Sharon who is just living her normal teenage life, except for the fact that she has braces. Literally don't know why they gotta hate on the braces but in some episodes she uses them to hack into listening devices. Cool twist right? Plus Alicia Silverstone voiced her for the first two seasons, talk about a Clueless win! Also the characters ALWAYS reminded me of Lizzie McGuire and her friend group. Coincidence? Hm.
24. Dave The Barbarian (2004, One Season)
Literally a random Disney Channel TV Show that centered around a Barbarian named Dave who loved to cook. It also focused on his sisters, a strange wizard, and a talking sword, who all of which go on adventures while Dave's parents are away "fighting." A concept. There's a reason it only lasted one season.
23. Tutenstein (2003-2008, 3 Seasons)
Basically a Egyptian boy king zombie comes back to life after being dead for years in a museum. Wonder how a young Pharaoh is able to assimilate into modern day society? Watch to find out!
22. The X's (2005-2006, 1 Season)
Basically the incredibles but in spy form. A family has some issues keeping their secret identities, well, a secret. I liked it!
21. Between The Lions (2000-2010, 10 Seasons)
Don't even get me started on how much I loved this show. Too late, I've already started. This show was jam packed with educational material yet so addicting to watch as a kid in my personal opinion. There is a reason it lasted 10 seasons! Lion librarians teaching you about the joy of reading and learning!? Books coming to life on the pages in front of their eyes?! CLIFF HANGER??? So good. So SO good. I recommend anyone with kids who have yet to see this show should show it to them.
20. Maya & Miguel (2004-2007, 5 Seasons)
This show followed the adventures of twins, Maya and Miguel. The two not only find themselves in plenty of mischievous trouble, as many kids do, but they also teach viewers a lot about Spanish culture and customs. It's another great learning device turned TV show.
19. Little Bear (1995-2003, 5 Seasons)
Based on the equally amazing books, Little Bear was one of my favorite shows growing up! Basically revolved around a, you guessed it, Little Bear, and all of his animal (and one human) friends going on adventures in the forest they resided in! Such a cute animated show.
18. Ni Hao Kai-Lan (2007-2011, 3 Seasons)
Kai-Lan is an adorable little girl that teaches children about both Chinese and American customs and how two cultures can come together! Such a cute little show that also taught some Mandarin words to kids! Great way to learn about other cultures.
17. The Busy World of Richard Scarry (1994-1997, 5 Seasons)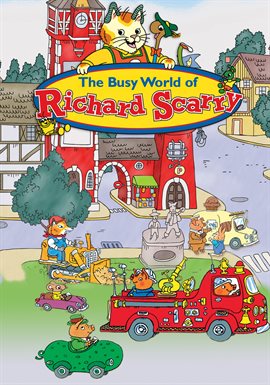 I use to love the books and COMPUTER GAME that also revolved around the magical world of Richard Scarry. Basically a normal quaint town, whose residents live their every day lives, except all the residents are talking animals. Good stuff!
16. Higgly Town Heroes (2004-2008, 3 Seasons)
I actually loved this show and the important message behind it. Especially in the current concern we are going through, the message that not all heroes wear capes is extremely important to teach kids. This show showcased how every day workers in normal society can be seen as heroes when they perform their duties to assist others. Great lesson!
15. Maggie and The Ferocious Beast (2000-2013, 8 Seasons)
Maggie is an imaginative little girl who brings her toys to life through her imagination. The show revolves around the adventures of Maggie with mainly her giant Ferocious Beast and his iconic red spots!
14. Lloyd In Space (2001-2007, 5 Seasons)
Living life as a teenager in a space station can be hard, but how about being an alien on top of it all? The show followed along with the crazy life of Lloyd, well, in space!
13. Sagwa The Chinese Siamese Cat (2001-2003, 1 Season)
Sagwa is a Siamese cat who is a member of the royal Chinese family. The show takes place in the past to teach children about old Chinese culture and customs. Definitely a great show on PBS to teach children about another other parts of the world as well as other cultures.
12. My Gym Partner's A Monkey (2005-2008, 4 Seasons)
This is a show that I question how was able to have so many seasons. Basically a kid gets sent to a middle school for animals, not humans, after a mistake on his transcript. There he befriends a monkey and goes on wild adventures. I do appreciate that the middle school is named Charles Darwin Middle School. Well played on that one, I'll give it that.
11. My Dad The Rock Star (2003-2004, 2 Seasons)
Kid just wants a normal life but can't. Why not? Does the title give it away? You guessed it yet again, his dad just so happens to be a rock star. Kind of hard to live under the radar with a dad like this one.
10. The Weekenders (2000-2004, 4 Seasons)
Toon Disney and Disney's Saturday Mornings were the best things to ever happen to TV and they should have never gone away. The Weekenders focused on four friends from very different backgrounds, who lived to have the best weekends a friend group could have. It showed the younger generation that anyone can be friends and find things in common!
9. Oswald (2001-2003, 1 Season)
This was literally a show about a giant blue octopus named Oswald, with a pet dog NAMED WEENIE, and his friends who were a flower and a penguin. Enough said.
8. Fillmore (2002-2004, 3 Seasons)
Basically like one of those cheesy cop and sidekick shows, but set in a middle school for kids enjoyment.
7. Jay Jay The Jet Plane (1998-2005, 4 Seasons)
Anyone watch this show and get severely creeped out by the strangely animated faces? No? Just me? Well then…. Anyways, think Thomas the Train but in plane form and there you have Jay Jay.
6. Catscratch (2005, One Season)
Three strange animated cats gain an inheritance. I wonder why some shows even existed. This was one of them.
5. The Mighty Bee (2008-2011, 2 Seasons)
This show was such a concept because it basically revolved around a girl named Bessie who was determined to earn all of her Honeybee Scout badges (think of it like girl scouts). But the weird concept was is it was set in I think the 1980s. I remember one episode where they went to a museum and it was saying what the "future" would bring and I think it was either like 1998 or 2000 was the year they predicted there would be fly cars. That's when I knew the show as taking place before my time.
4. The Buzz On Maggie (2005-2006, 1 Season)
A show literally about a young fly named Maggie who lived in a city of flies located in a dump. Maggie dreams of being a rockstar, has little larva siblings and germs for pets. Another concept.
3. Codename: Kids Next Door (1998-2008, 6 Seasons)
Such a cool show that definitely fueled my imagination. Basically the show revolved around a group of "spies" (kids), each with specialized skills, and worked out of a secret tree house. There they would take on "evil-doing" adults to make sure the world was safe for all kids! Loved it.
2. My Life As A Teenage Robot (2003-2007, 3 Seasons)
Basically about an old lady who didn't have kids so she had a robot instead to treat as a teenage daughter. Meanwhile the robot just wants to be human and do human things to be a normal teenager. For some reason the episode that always sticks out the most to me is the one where she learns to dream like people do. Then she started clashing her dreams with reality. Interesting concept of an episode.
1. Jojo's Circus (2003-2007, 3 Seasons)
A kid clown who lives with her clown family in a Circus teaches kids about colors and shapes as well as being active. She loved to sing and make you dance while she would sometimes uncomfortably stare you down like Dora.