Hello everyone! Now I'm not going to lie and say I totally remembered that Easter was tomorrow, because frankly right now I don't even quite remember what day it is. BUT, ya, Easter is umm TOMORROW. I know many of us who are in quarantine right now are unable to celebrate Easter with family members and quite frankly it does suck. But I thought it would be fun to put together a list of fun dessert ideas that will make people feel festive & happy, but also take up some time to get creative while stuck inside. So enjoy this list of 15 fun and creative Easter desserts to make while in quarantine!
15. Gluten Free Bunny Munch from Iowa Girl Eats
Let's start things off with some amazing munchies to snack on throughout the day. Not only does this munchy dessert scream spring, but it's also gluten free and super easy to make! This would be a really fun dessert to make with kids and definitely a hands on activity! For the full recipe by Iowa Girl Eats, check out her site, here!
14. Easy Easter Marshmallow Bark from Butter with a side of Bread
Usually when I think of bark my mind jumps right to Christmas. I have this unhealthy addiction t one kind of chocolate bark I ALWAYS have at my aunts house. It's basically chocolate with marshmallows. SO NOW LETS GO TO THE PICTURE ABOVE. Chocolate, WITH MARSHMALLOWS. Glorious, but with a great Easter touch. I also love the colored marshmallows too. For the full recipe, check out Butter with a side of Bread's site here.
13. Coconut Macaroon Nests from Inspired by Charm
Such a cute and easy treat for anyone who wants a tasty coconut macaroon with a little extra Easter flair! I love how simple yet festive the idea is to turn them into nests with the addition of some chocolate eggs! For the full recipe guide as well as some other awesome Easter recipes, check out Inspired by Charm's site here.
12. Easy Easter Dessert Easter M&M's Cookie Bar from No.2 Pencil
Cookie bars are always a good way to go when it comes to delicious desserts. Plus adding pastel colored M&Ms to anything, gives every dessert that needed springtime boost. For the full recipe by No.2 Pencil, check out their site here.
11. Easter Bunny Milkshake from Salty Canary
Can we talk about the pure genius that is putting a milkshake INSIDE A HOLLOW CHOCOLATE BUNNY!? Like how have I NEVER seen this before!? It's such a good idea!!!!! For this full extreme Easter milkshake recipe inspiration, check out Salty Canary's site here!
10. Peeps Skillet Dip from Francesca Bean on Brit+Co
For those of you who know me, know I'm a HUGE Peeps person. Which is why the idea of this peeps skillet dip is INSANELY enticing. Plus I love the added idea of using vanilla wafers or vanilla cookies to eat along with the dip. 10/10 idea all around. For the full how-to guide, check out Francesca Bean's recipe on Brit+Co here!
9. Layered Peeps Rice Krispie Treats from Yellow Bliss Road
What do I love more than marshmallows??? Rice Krispie Treats. Aka the ultimate marshmallow dessert. How to amp up your game by 1000?! USE PEEPS! Love the creativity and color from this recipe by Yellow Bliss Road. For the full list of instructions, check out their website here.
8. Creme Egg Cheesecake from Taming Twins
When it comes to Easter treats, Creme or Cadbury Eggs are truly the height of excitement. So why not take that excitement to the next level? If your mouth isn't watering just from looking at these picture then you're clearly not a dessert person. For a written recipe as well as video tutorial on how to accomplish this delicious genius, check out the Taming Twins' website here!
7. Bunny Butt Chocolate Cheesecake Ball from 4 Sons 'R' Us
Talk about super creative as well as completely adorable! From classic homemade cheeseball to dessert chocolate cheesecake bunny butt! Such a cute idea! For the full how-to recipe, check out 4 Sons 'R' Us's website here.
6. Easter Basket Cupcakes from Betty Crocker Kitchens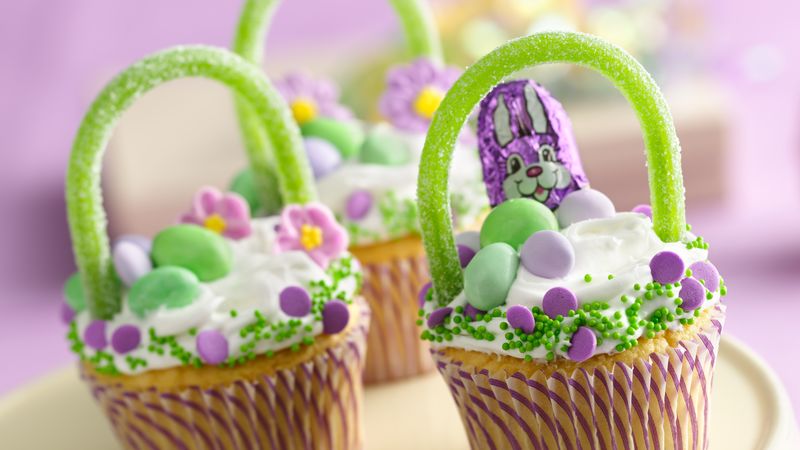 I figured this would be a cute little addition to this creative dessert post. Just to get the creative juices flowing on how you can truly add some flair to any dessert. I love this concept of turning a cupcake into and Easter Basket! Check out the full recipe from Betty Crocker Kitchens here.
5. Easter Egg Blondies from Averie Cooks
Talk about a perfect little springtime blondie to put you in the hippity-hoppity spirit! This is a brightly colorful dessert that will leave you craving more! For the full recipe by Averie Cooks, check out their webiste here.
4. Peanut Butter Eggs from Preppy Kitchen
Love Reese's Peanut Butter Eggs? Maybe you're a little nervous about going to the store to get some right now? Well then is this the recipe for you! Check out this awesome recreation from the Preppy Kitchen and whip up your own PB Eggs creation! I would probably eat the entire batch… in one sitting… by myself. ANYWAYS, check out their website here for complete instructions!
3. Easter Dirt Cake from Lil Luna
This always seems to be a staple in most households when it comes to Easter Desserts if you ask me. Basically you make worms in dirt but instead you substitute the worms for peeps and M&Ms! Sounds like a delicious substitution to me. For this full Easter Dirt Cake recipe from Lil Luna, check out their website here!
2. Easy Carrot Cake Recipe from Grandbaby Cakes
I feel like when it comes to flavors and Easter the only right way to go (besides white cake with pastel food dye) is carrot cake! Check out this amazingly gorgeous take on the classic flavor with a cute little Easter twist! For the complete recipe, check out Grandbaby Cakes' site here!
1. Easter Egg Layered Cake from I Heart Naptime
When it comes to cake, next to Red Velvet, I'm a sucker for classic white with fluffy vanilla frosting. But how do you step up your festive game? Add some food dye to create a beautiful pastel middle that'll be sure to wow the family when you slice into it! For the full recipe guide to this pastel cake, check out I Heart Naptime's site here.
Enjoy baking everyone!!