We all know that when it comes to Valentine's Day people hype up the idea of trying to be extra romantic for their partner (or crush). So what better what to show your love than a three dollar card from the store that promotes the holiday?? Candy, people. Candy is better. BUT ANYWAYS, I decided to take the time to compile a list of some of the strangest vintage Valentine's Day cards I found. If anyone has one of these bad boys, then I'd start second guessing your relationship #sorry. Enjoy!
14. Breaking Out With Love
Don't get near me with that rash.
13. Love Is Criminal
Right cause I totally wouldn't be concerned after receiving this.
12. Alice & Hatter…?
Hatter she's like 12 woah there.
11. "You" In Card Form
Didn't know Joe made Valentine's cards on the side.
10. Slightly Threatening
That sausage looks menacing to me. Look at the evil in it's eyes.
9. Candid Love
Calm down lady and watch your step.
8. Hot Damn
Definitely NOT a hot tip to give this card to anyone.
7. Fishin For A Good Line
Desperately fishing for a good pick up line on this one.
6. Dumb Crazy In Love
I'd love to see the artist being pitched this one like "okay so picture this we have a plum, but with the body of a human, on a SCOOTER. Boom. Romance."
5. Catch Up Already
"See Red". How about no.
4. Thaw A Frozen Heart
Don't thaw out. Run. Run far away instead.
3. Seriously Hallmark…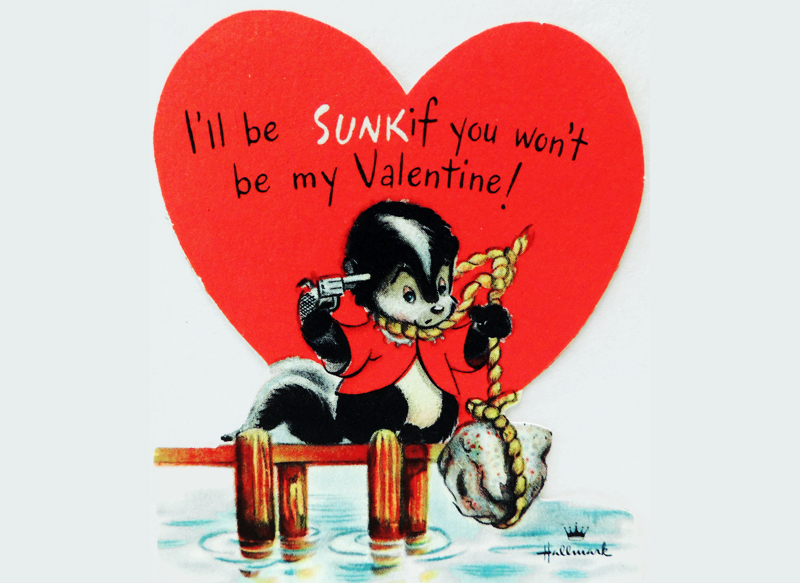 Crazy to think people actually thought this was okay AND WOULD BUY IT TO GIVE IT TO THEIR LOVED ONE.
2. Simmer Down
No. Just no.
1. Gotta Be Healthy
Woah there lettuce lady.