It's never too early to start your Galentine's day prepping! Especially when it includes some sweet Gluten-Free treats!
15. Gluten Free Conversation Heart Cookies from What The Fork
Who can say no to a heart shaped sugar cookie?? Especially when it's gluten free! Plus its an adorable twist to a classic Valentine's Day treat! Check out this deliciously lovable treat by What The Fork on their website here.
14. Paleo Chocolate Lava Cake With Almond Butter from Food Faith Fitness
I'll let the video speak for itself on this one but wowza does this bad boy look good! Check out this amazing twist on Almond Joys by Food Faith Fitness on their website here.
13. Gluten Free Chocolate Dipped Pretzels from Eat At Our Table
Such a simple dessert to make that often times many gluten-free peeps cannot indulge in. Let's make this Valentine's Day ours to enjoy by making our OWN chocolate covered pretzels thanks to Eat At Our Table's ingenious recipe. For the full list of instructions (as well as some other sweet gluten-free treat inspiration), check out their site here.
12. Gluten-Free Valentine Chex® Mix from Betty Crocker Kitchens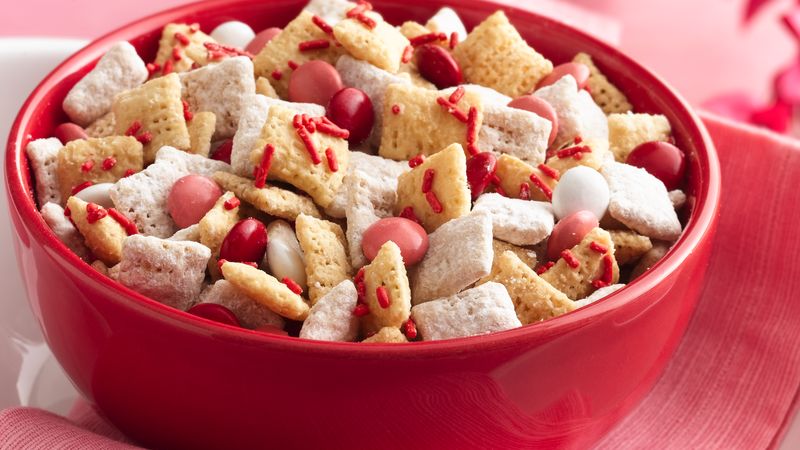 Ready to be addicted to a sweet treat you can finally indulge in? The thing I always hated about chex mix is I could never munch on it and would be envious when everyone else could. SO NOW'S OUR TIME TO SHINE EVERYONE. Head on over to the Betty Crocker site here to make a deliciously gluten-free Valentine's Day chex mix!
11. Valentine's Day Donuts from Fork And Beans
Gotta start Valentine's Day off right? RIGHT!? Exactly! So what better way to start off the day than by indulging in one of these amazing donuts! For the full donut recipe by Fork And Beans, check out their site here!
10. Easy Valentine's Day Chocolate And Berry Kabobs from My Gluten-Free Kitchen
Who doesn't love a cute little kabob you can dip in whipped cream? Love the fact that this recipe is both gluten-free and so unique to Valentine's day! For the full recipe and list of directions by My Gluten-Free Kitchen, check out their site here.
9. Gluten Free Red velvet Waffles from My Hot Southern Mess
This is like the trifecta of all my favorite things. Breakfast food, waffles, AND RED VELVET. Wow. Just wow. I cannot wait to make these (for myself lol) on Valentine's Day morning before heading into work! For the full recipe by My Hot Southern Mess, check out their site here.
8. BETTER For You Gluten-Free Chocolate Valentine Cookies from Almost SUPERMOM
I love any kind of cookie that has a nice big Hershey's kiss right smack dab in the middle of it. So this cookie recipe has DEFINITELY peeked my interest especially because it is healthier which can be hard to come by when baking gluten-free! Plus who doesn't love some extra (much-needed) sprinkles! For the full recipe, check out Almost SUPERMOM's site here.
7. Gluten Free Vegan Whoopie Pies from Sarah Bakes Gluten Free
Mmmmmm, I love a good gluten free whoopie pie and I think heart shaped desserts just hit a different way. A better way. For some awesome dessert that goes straight to the heart, check out these awesome gluten free AND vegan whoopie pies by Sarah Bakes Gluten Free on her site here.
6. White Chocolate Dipped Valentines Day Cookies from Mile High Mitts
I'm not going to lie, I'm not a huge white chocolate person, but the pictures of these cookies alone make me want to try one! They're adorably festive and definitely eye-catching (being gluten free is just another added bonus)! For the full recipe by Mile High Mitts, check out her site here.
5. Gluten Free Red Velvet Truffles from Kimberly's Gluten Free Kitchen
When it comes to cake flavors I have to say that Red Velvet is definitely my all-time favorite! It's like the best of both worlds (basically chocolate and vanilla flavors). Red Velvet anything really. ANYWAYS, check out this tasty gluten-free truffle recipe by Kimberly's Gluten Free Kitchen here.
4. Chocolate-Stuffed Gluten Free Brownies from Momtastic
I LIVE for a good brownie and honestly there are a ton of great gluten-free brownie recipes out there. But this one DEFINITELY takes the cake with the amazing hidden treat in the middle! The addition of a fun-sized chocolate to an already gluten-free brownie has my mouth watering. Check out this AWESOME recipe by Momtastic here.
3. Gluten Free Red Velvet Chocolate Chip Cookies from Mama Knows Gluten Free
It can't be a Valentine's Day food post without a good ol' Red Velvet cookie. I once again am a HUGE Red Velvet fan and even though I generally think it goes hand in hand with holiday baking, it's always Red Velvet time. Anyways, check out this delightful gluten-free Red Velvet cookie recipe by Mama Knows Gluten Free here.
2. Gluten Free Red Velvet Cake from Let Them Eat Gluten Free Cake
Oh my gosh this cake looks HEAVENLY. I have never seen a picture of a gluten free cake that looks so fluffy and moist! Check out this amazing Red Velvet cake recipe from Let Them Eat Gluten Free Cake (I like what you did there by the way) here!
1.Valentine's Day Chocolate Covered Strawberries from Easy Family Recipe Ideas
I had to finish things off with a STAPLE (and naturally gluten free) dessert when it comes to the season of love. For some reason love is professed through chocolate covered strawberries in just about every movie or aspect when it comes to Valentine's Day and honestly I'm not complaining! I loved this recipe because it gives some great tips to making adorably festive designs! For the full list of instructions and recipes by Easy Family Recipe Ideas, check out their site here.