Now for rendition number TWO of getting ready for Thanksgiving Paleo style! The absolute worst part of becoming fully-gluten free and dairy-free within the first few years was relatives not getting the memo. AKA no friendly desserts for me to consume. Which if you know me, know that is a HUGE issue. Isn't the holidays about indulging? Anyways, as the years went on, I started researching and trying recipes that put a spin on the classic desserts! I decided to compile a list of 15 great alternatives to the unfriendly Thanksgiving desserts! Enjoy!
15. Chewy Pecan Pie Brittle from PaleOMG
Mmmmm who doesn't love starting off this list with something that normally breaks your teeth? Thankfully for us this paleo version is chewy! Now you can get all the deliciously sweet taste of pecan brittle with a little less crunch! For the full recipe by PaleOMG, check out their site here!
14. Pumpkin Chocolate Chip Cookie Dough Cups from PaleOMG
Just the picture has my mouth watering! Cookie dough and pumpkin!? Heck yes! Check out how to make this easy bite-sized dessert by PaleOMG here.
13. Paleo Apple Cranberry Crisp from Fashionable Foods
Yummy twist on your classic apple crisp dish! I love the idea of adding cranberries in it for not only extra sweetness, but also for extra festive vibes! You can't have Thanksgiving in New England without cranberries incorporated somehow! To check out how to make this tastily crumbly dish by Fashionable Foods, check out their site here.
12. No-Bake Pumpkin Tarts from Detoxinsta
No-bake and bite-sized? Sounds like a great option if you need to make something last minute! Plus once again anything pumpkin related is a win for me! Check out the full recipe by Detoxinsta here.
11. Paleo Pumpkin Cake with Maple Frosting from Paleo Gluten Free Eats
Not just pumpkin, no no, pumpkin in cake form. But not stopping there, no no, with maple frosting and it's paleo. Welp sorry guys, looks like I just died and went to heaven because that is clearly the only place this dessert must be. It looks SO GOOD. Check out this heavenly recipe by Paleo Gluten Free Eats here!
10. Paleo Pumpkin Blondes from Real Simple Good
The picture alone has me sold on this one. Plus I'm a sucker for a good Blonde. Then per usual you just have to add in the pumpkin! Check out this recipe by Real Simple Good here.
9. Salted Caramel Pecan Pie from Paleo Running Momma
Pecan pie is usually more of a southern thing in my opinion, but that doesn't stop me from indulging in it when someone brings it to a party! Candied nuts in general are my high-calorie weakness that I will always splurge for! This is a great alternative to your classic pie recipe too because it's all Paleo! Check out the full recipe by Paleo Running Momma here.
8. Paleo Pecan Pie / Tart from Paleo Spirit
I liked this dish because I felt like it was a little different from your average pie because the picture makes it look more on the tart scale. Just in case you're worried about someone making the same dish as you do, make a tart instead of a pie! Both equally as good and equally as much sweetness! Check out the full recipe by Paleo Spirit here.
7. Pumpkin Bread Pudding from King Arthur Flour
I don't remember the last time I ever saw a bread pudding I was actually able to eat! It always looks like amazing gooey goodness, and this recipe is for all the Paleo eaters out there with the same dilemma! This recipe looks not only identical to it's gluten and dairy filled counterpart, but it added in pumpkin to get into the Thanksgiving spirit! Check out King Arthur Flour's site here for the recipe.
6. Gluten-free Pumpkin Donuts from Texanerin Baking
We New Englanders tend to call these Munchkins thanks to living off Dunkin', but these little bad boys look like munchkins on a new level! Pumpkin donut holes COVERED IN CINNAMON SUGAR!? Oh I need to make these ASAP. Check out the Texanerin Baking site here for the recipe!
5. Paleo Apple Pie with Crumb Topping (Dutch Apple Pie) from A Clean Bake
I think the dutch version of Apple pie always looks so much more appealing than the regular one solely for that crumble top! Check out how to make an amazing Paleo version on A Clean Bake's site here.
4. Paleo & Vegan Apple Pie Bars from Paleo Running Momma
Chewy, cinnamon-y goodness just by the picture. I love anything that looks like it'll melt in your mouth! Check out how to make these awesome Pie Bars on Paleo Running Momma's site here.
3. Pumpkin Ice Cream from The Gracious Pantry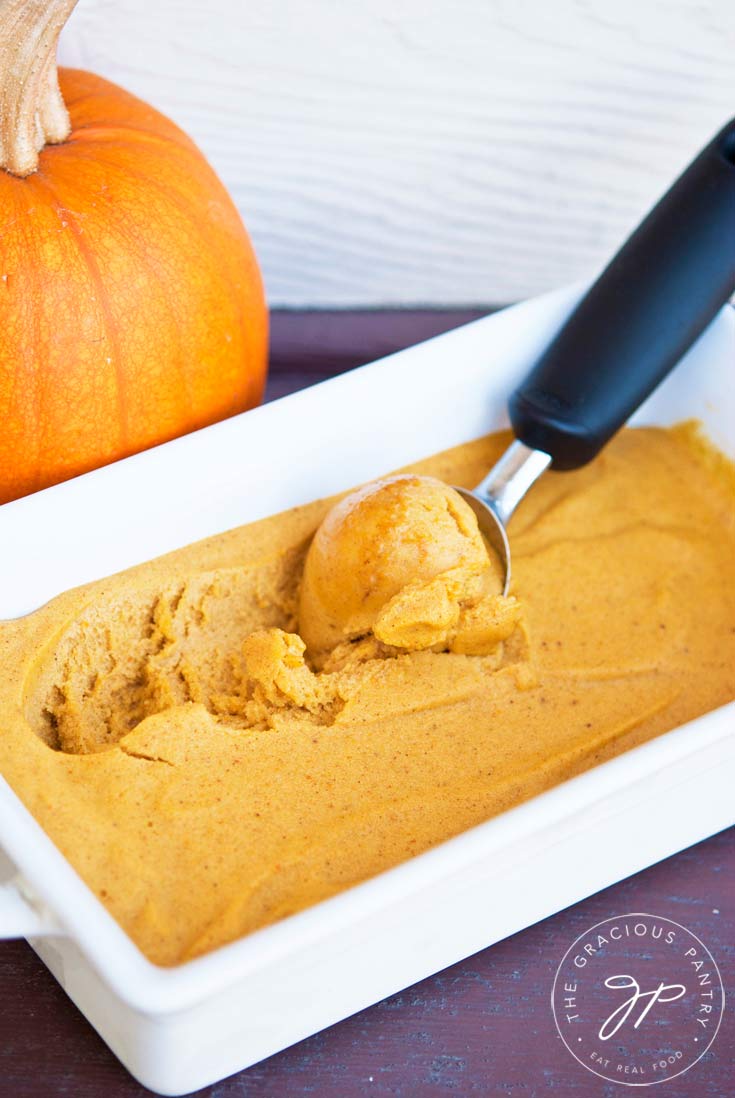 Everywhere I go that has ice cream, they always have their seasonal pumpkin flavor and it becomes a huge inner battle for me. Like do I have it and suffer the consequences or do I pass and move on with the rest of my day? Every. Dang. Time. BUT THIS. Now I can indulge without the worry!! Check out the full dairy-free recipe form The Gracious Pantry here.
2. Grain-free & Dairy-free Pumpkin Pie from Danielle Walker
The second most important pie when it comes to Thanksgiving in my book. The great this about this recipe is the crust actually looks delicious and not too thin like many other recipes out there! For the full pumpkin pie recipe, check out Danielle Walker's website here.
1. Paleo Sweet Potato Pie from The Roasted Root
THE MOST IMPORTANT PIE IN MY OPINION HAS BEEN SAVED HERE FOR LAST. I don't want to hear about a single person who claims they don't like sweet potatoes of anything involving them. Because those people are either just downright wrong or hasn't actually tried anything related to the topic. Sweet Potato Pie is the BEST pie there is. Hands down. Make it Paleo and you have one extremely happy Victoria (who may need to be rolled home when shes done consuming the entire thing in a single sitting). Check out the full recipe on how to make this pie by The Roasted Root here.