Hello again everyone! Welcome to yet another rendition of my 31 Day of Halloween! Today we will dive into (pun intended) some extremely satisfying punch bowls that will definitely escalate the spook factor at any Halloween Party! I love sharing these recipes because they can easily be made both alcoholic and non-alcoholic based on your preference or party clientele; but regardless will still make the atmosphere extra festive! Grab your favorite spooky glass and let's dive on in!
10. Spiced Pumpkin Punch From Julie Kotzbach On Real HouseMoms
I figured we'd start off with a bowl that will definitely get you in the fall spirit! This punch has a great mix of pumpkin, cinnamon, and a whole bunch of classic fall flavors wrapped into one drink! For the full recipe and others, check out Julie's article on Real HouseMom's site here!
9. Spooky Halloween Party Punch From Simply Happy Foodie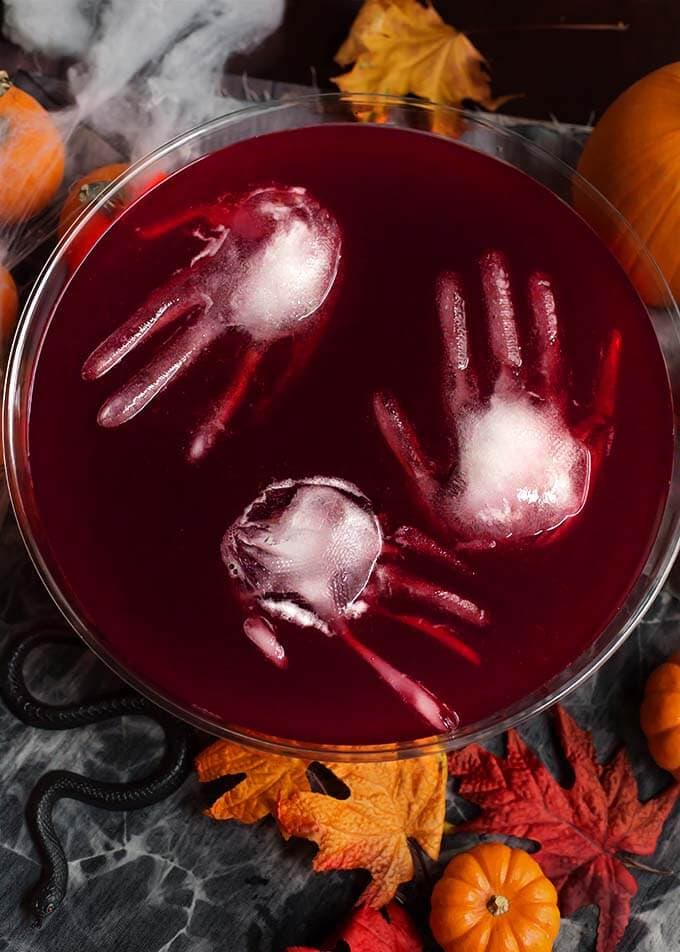 The ice cubes and the deep red color of the punch is what really does it for me! This is definitely a wow factor for another who looks inside the bowl! I'm also a big fan of any cocktail that includes cranberry and pineapple juice! For the full recipe, check out Simply Happy Foodie's site here!
8. Pumpkin Bourbon Halloween Punch From Thrillist
I like Thrillist's thinking here. Who needs a punch bowl when you can just hollow out a pumpkin! This is also definitely a drink that packs a mighty punch with the ingredients involved! For the full recipe and inspiration, check out Thrillist's site here!
7. Melting Witch Halloween Punch (Non-Alcoholic) From Food Meanderings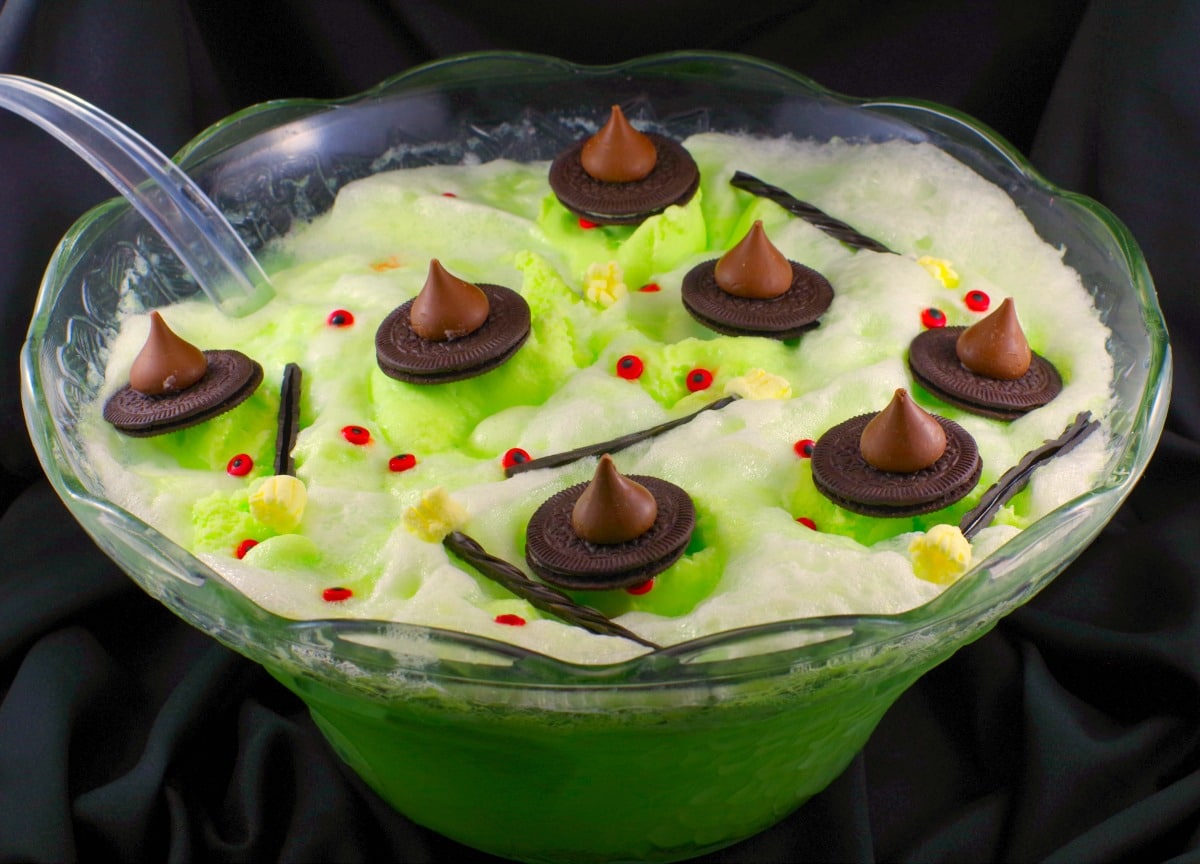 Now this is definitely a recipe for someone who's looking to get crafty with their punch! This certainly takes things to the next level especially with the tasty treats on top! For the full recipe and how-to, check out Food Meandering's site here!
6. Halloween Punch From Brooklyn Farm Girl
This is definitely a dessert and drink in one! I absolutely love how the sherbet with the 7UP creates that foamy appearance along the top of the punch bowl. Plus the eyes are a great touch! Adding your alcohol of choice would definitely add a nice punch to this punch bowl as well! For the full how-to, check out Brooklyn Farm Girl's site here!
5. Shrunken Heads In Cider From Martha Stewart
Talk about spooky! I love the addition of the apples to create that Shrunken Head look! For any of my Disney Parks fans out there does this give anyone else Trader Sam vibes?? Check out this awesome spiked cider recipe and more on Martha Stewart's site here!
4. Creepy Halloween Vodka Punch From Cupcakes & Cutlery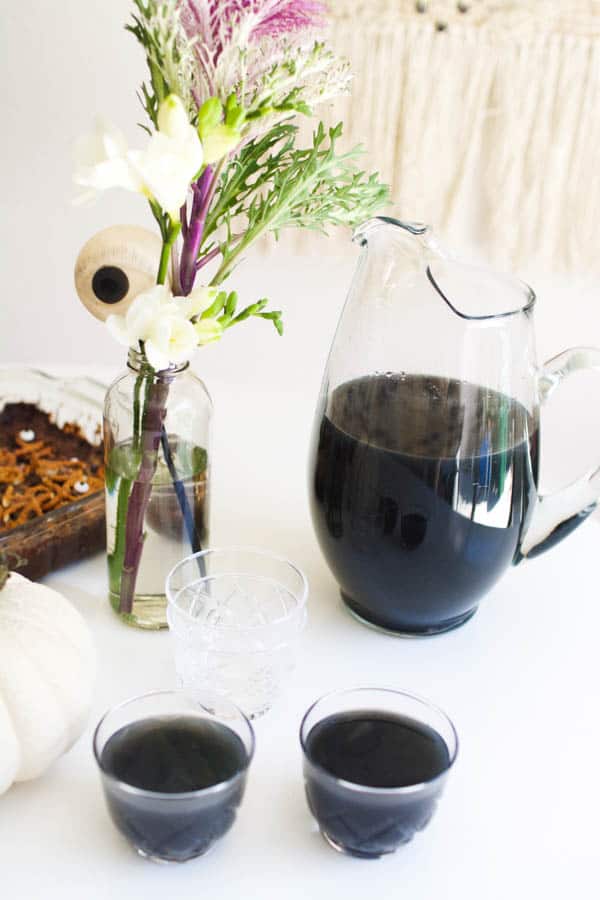 Now the idea of adding activated charcoal powder to the drink is such a game changer in my book! I would never have thought of that! I love this idea and the intense color. Wonder what your mouth will look like after you drink it? It'll definitely make things easier to know who's had a little too much to drink based on how dark their tongue gets! Check out this recipe on Cupcakes & Cutlery's site here!
3. Wicked Worm Punch From Tipsy Bartender
If there's one thing I've learned over the years, it's if the recipe comes from Tipsy Bartender, it's bound to be amazing! Their drink concoctions are unreal taste wise and visually. They do a great job of ensuring things are both appealing to look at and insanely satisfying to drink. Which also makes them a little dangerous especially when you realize (or don't realize I should say) just how much alcohol is in their drinks. Talk about a good time! Check out this and other spooky punch bowl recipes from Tipsy Bartender on their site here!
2. Black Widow Venom Halloween Punch From Lady Behind The Curtain
I love the spiders in this punch bowl! It's such a festive and simple way to make your bowl even spookier! Per usual, I recommend adding the alcohol of your choice to give your bowl a little more bang (if it's an adult Halloween party obviously)! I also recommend check out Lady Behind The Curtain's site here for not only this recipe, but she has other great Halloween Punch Bowl ideas as well!
1. Witches' Brew Alcoholic Halloween Punch From Grits And Pinecones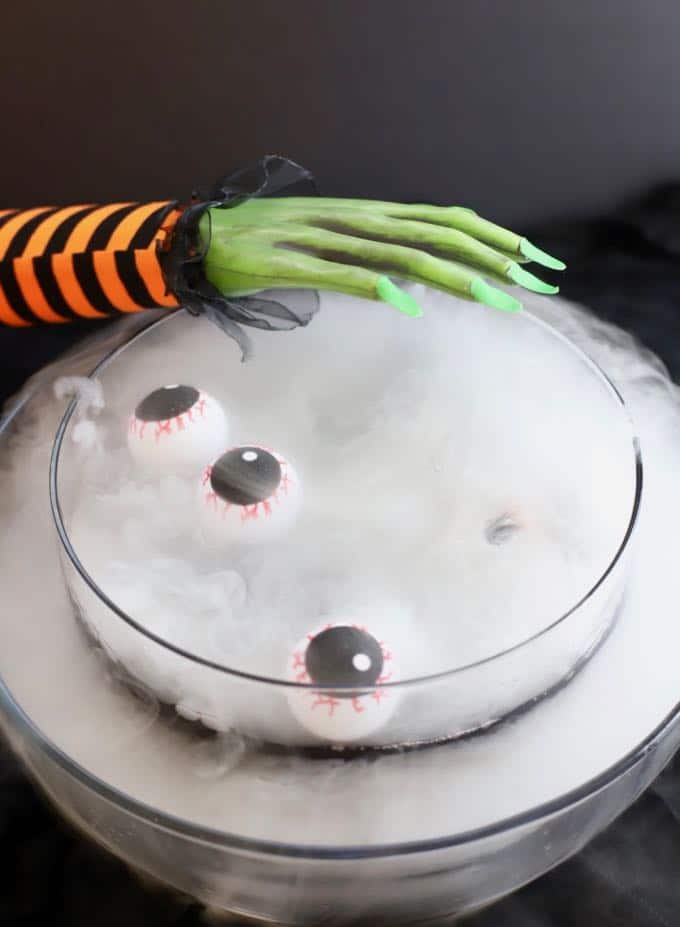 Wow talk about a punch that well… packs a punch! Grits and Pinecones sure isn't playing around when it comes to this spooky concoction! The addition of the dry ice really boosts the witchy factor for this drink as well! For the full recipe, check out Grits and Pinecones' site here!