Now when it comes to eating healthy, I totally get it. I, myself, am a very health conscious eater. But when it comes to holidays or events that definitely revolve around food in some aspect, I believe everyone should do and eat whatever makes them happy. I get shocked when some blogs create healthy treats as candy 'alternatives.' Yes, I understand you want your child to be healthy, but also please remember it's Halloween and everyone should be allowed to induce themselves into a sugar coma. But, I also am a big fruit lover and love how these blogs got their creative juices flowing and made some awesomely spooky treats! In my mind, these are great day time treats or send to school treats to balance your kids' Halloween day with health and prep them for a night of candy!
1. Apple Mummies From Two Healthy Kitchens
So simple yet so stinkin cute!! For the full how-to, check out Two Healthy Kitchens' site here!
2. Honeydew Bats From Shaken Together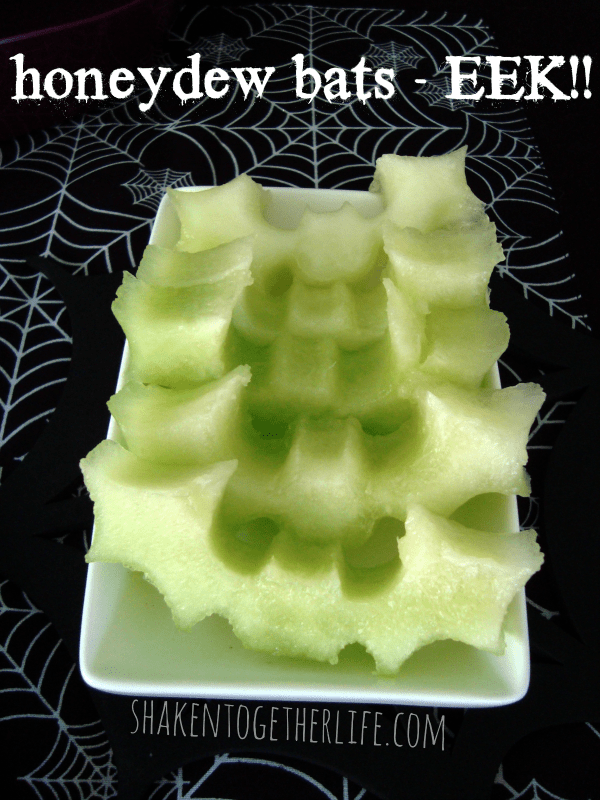 Never thought about using a cookie cutter on fruit like this before, I love it! Check out this, and other creatively simple Halloween food ideas on Shaken Together's site here!
3. Tangerine Pumpkins From Bren Did

Check out how to perfect these little bad boys as well as some other creative healthy treats on Bren Did's site here!
4. Fresh Fruit Halloween Cups From Hip 2 Save
This would also be a great craft to do with kids or even a kid's Halloween party activity! Fill the cup up then let them draw their own faces on the sides! I love this! For the full inspiration, check out Hip2Save's site here!
5. Silly Apple Bites From Fork And Beans
I absolutely love this idea, but I'm not going to lie, the sunflower seed teeth are kind of freaking me out. Don't they look almost realistic?! It really brings the faces to life! Check out the full recipe and how-to guide on Fork and Beans' site here!
6. Halloween Fruit Salad From Foodoppi
May be one of the cutest little Jack-o-Lanterns I've ever seen. I've always seen the classic orange turned Jack-o-Lantern treat idea, but I love how Foodoppi turned them into mini fruit bowls as well! Now you get the joy of all different fruits in one! Check out the full how-to on Foodoppi's site here!
7. Franken-Kiwis & Killer Strawberries From House Of Nash Eats
These two ideas alone are absolutely adorable! But I highly recommend checking out House of Nash Eat's full blog article here for all of their other deliciously healthy (and spooky) Halloween ideas!
8. BooNana Ghost Pops From Mom's Kitchen Handbook
Such a great idea and a yummy frozen treat! I don't know about you, but I liveee for frozen bananas! Check out the simple ingredients and directions on Mom's Kitchen Handbook's site here!
9. Nature's Candy Corn and Fruit Dip From Super Healthy Kids
Ya know, as much as I love the real Candy Corn and will never turn it down, this does look pretty dang good. I love anything that involves fruit or a fruit salad type deal with different fruits put together! Plus what a cute and easy idea that I would have never thought of on my own! For the full how-to, check out Super Healthy Kids' site here!
10. Watermelon Head From Jacqueline Parisi On Hello Fresh
You've probably seen the pumpkin Jack-o-Lantern puking guacamole, but now I give you the watermelon Jack-o-Lantern spewing fruit! I love this idea and it looks so fun to make! Check out the full tutorial from Jacqueline Parisi on Hello Fresh's site here!