Hello world! Today is a very big day for everyone out there (in my humble opinion) because it is the first official day of Pumpkin Spice Season at Dunkin Donuts!!! GO GET THAT SPICE GUYS. Anyways, in honor of the (basically) official start of fall, the taste of pumpkin spice has me feeling extra nostalgic. So today I decided to focus on some of the highlight accessories all 90s/00s girls just HAD to have. I know I have already touched upon some in previous articles and some key accessories may very well be missing, but please enjoy today's dose of nostalgia either way!
15. The Thin Sunglasses Look
Did these even truly flatter anyone!? I never understood the trend or the hype around it (but of course as a kid I took part in it with my hot pink Barbie versions). Then again I can't question much about fashion from this era because let's be real, MOST of it was questionable.
14. Neon/Tattoo Chokers
Now these I still vibe with. I love chokers and honestly I can see why these are coming back into fashion. Very simple yet chic.
13. Or The Typical Pukka Shells Necklace/Yin Yang Necklace For A More Chill Approach
Want a more laid back vibe? Or maybe you wanted people to know you were chill? Welp that is what pukka beads or the yin yang necklaces usually represented back in the 90s/00s.
12. Who Were You If You Didn't Hit The Mall With Your Monogrammed Purse?
Basically everyone who was everyone, especially in my middle school years, had themselves an initial bag. You knew you had to whip that bad boy out every time your mom said she'd take you and your friends to the mall. The things that made us feel cool still make me laugh.
11. You Were Probably Covered In Body & Hair Glitter
I don't know why this was a thing but I guarantee you every girl in the 90s/00s had at least one little container of body glitter. Or if you were really hip you either had multiple colors or body spray with glitter already in it. Then of course you always had to escalate the look by adding a little hair glitter for that extra wow factor.
10. For Some Reason Everyone Had These Headbands From Hell
Why did everyone have these. I never understood the trend because they HURT. I promise you not a single girl who owned these headbands actually enjoyed them. Imagine a bunch of needles constantly stabbing you in the head all day. But sometimes fashion hurts I guess….
9. Had To Rep The Bucket Hat
Another trend I never truly understood. But I specifically remember the jean bucket hat with the butterfly on it being the IT hat look. Maybe the idea was to hide all of the hideous hairstyles that seemed to be in fashion during the 90s and early 00s. I'm talking about the skunk highlights or even worse the deep red ones.
8. Two Signature Pieces of Hair Pulled Back With Butterfly Clips or Barrettes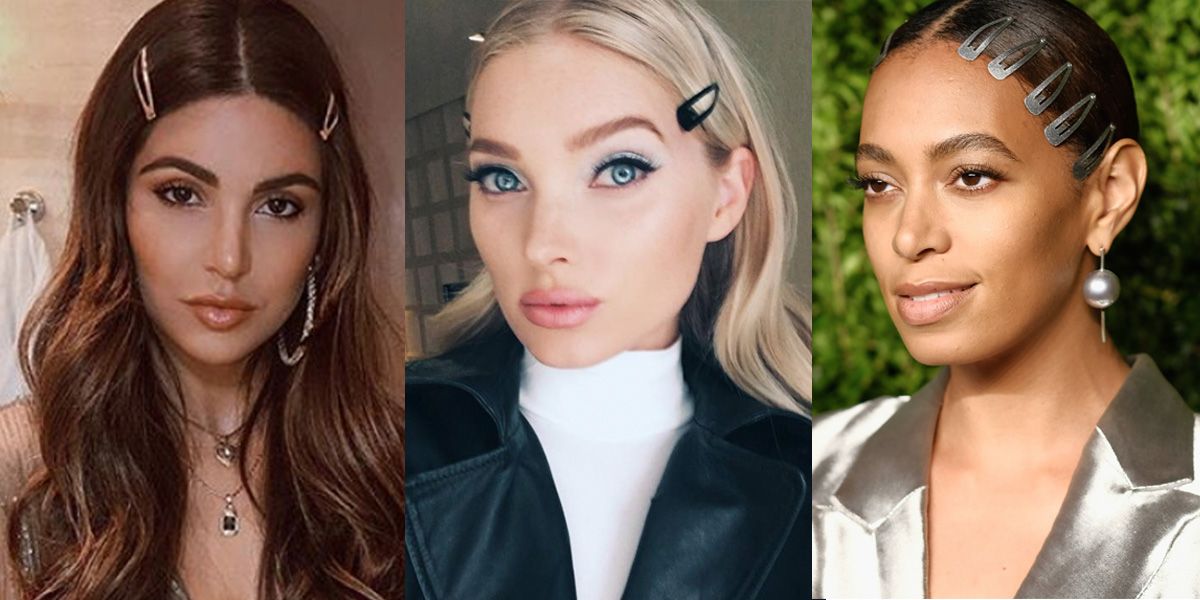 Now this look I can get behind and actually love that it is slowly coming back into fashion. I think the clipped back look really shows off the face! Never be afraid to flaunt the look!
7. Rocked The Clunky Shoes
All 90s/00s shoes hurt my soul. I can't get behind them coming back into fashion, it truly pains me inside to see them today. I think I'm going to make a separate post on some of the most outrageous shoe fashion trends from the same decades. To really emphasize my point.
6. Hair Bedazzler
Usually this little device just caused really painful knots or hair ripping. That and I don't even know why or how this became a trend in the first place. I did give props to everyone who was able to actually make shapes in their hair and designs with the bedazzler.
5. Hair Wraps/Feathers
If you went on vacation and didn't come back with your hair wrapped, did you really even go on vacation?? My mom NEVER let me get my hair wrapped no matter how much I begged because my hair was always so long and the wrapping was charged by inch. As for the feather, I'd say that was the height of my middle school career. I never had one (once again desperately wanted one), but it always seemed to be a first day of school trend to see a lot of girls rockin' them down the middle school halls.
4. LipSmackers Lip Gloss Cause That Lip Gloss Was Poppin
Did everyone else eat their chapstick and lip gloss off almost constantly with these because they tasted so dang good as a kid? No? Just me being weird? Okay cool.
3. The Bandana Look
Another trend I couldn't really get behind. I felt like the look worked in elementary school, but as people continued the trend getting older, I stopped being a fan.
2. You Just HAD To Have A Rice Necklace
I LOVED MY RICE NECKLACE. I still remember the day I got mine done at a school fair. I felt so cool with my rice necklace with purple glitter inside. Had to show it off all the time. Because ya know anyone who was anyone had a piece of rice with their name on it. I wanna know who started this trend or even thought of the concept in the first place. I do give props to the artists who were able to write the names though.
1. SCRUNCHIES!
A trend that never truly ended and I support. ROCK THEM SCRUNCHIES PEOPLE!