Feelin a little crafty? Or maybe even a little stressed out? Well I'm sure a relaxing night of spooky crafting will help your mind come to ease! Check some fun craft ideas that the entire family can enjoy!
15. Bat Pumpkins from Family Fun
It's freakin' bats. I love Halloween. Make your own freakin' bat from here.
14. Pumpkin Tree Ornaments from Parents
"Bring orange pom-poms, crinkle paper, and feathers to life by stuffing them into plastic ornaments." For the full list of instructions click here!
13. Halloween Marshmallow Ghost Craft from Coffee Cups and Crayons
Such a strange craft to come up with but super funny and cute! For the full explanation on how to get those marshmallows just right, click here.
12.Pumpkin Stress Balls from Good Housekeeping's Amanda Garrity & Meaghan Murphy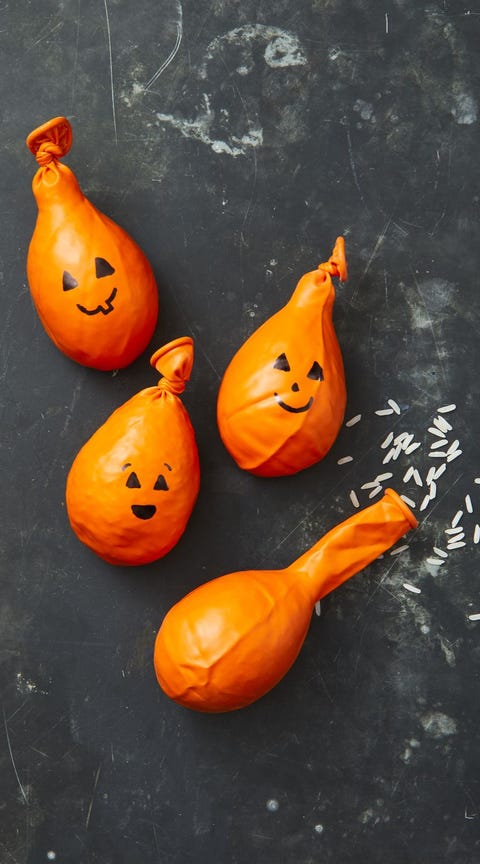 "Don't worry: These rice-filled DIY pumpkin stress balls are super easy to make. Just fill up orange balloons with rice and draw on a cute face."
11. Halloween Paper Bag Puppets from Make and Takes
These were a staple of classroom crafts back in my elementary school days for Halloween time. I loved making little paper bag people then filling them with candy on Halloween in class! For some inspiration to this classic craft, check out Makes and Takes idea list here.
10. Dollar store crafting: Spider Halloween vase! from Craft Shack Chronicles
Such a cute fun way to make an awesome centerpiece out of some great dollar store finds! Check out Craft Shack Chronicle's site here for some great inspiration!
9. Shadow Box Pumpkin from Crazy Little Projects
If you're looking for a craft that'll become a solid project and take a while to complete, this is the perfect one for you! Not only is it a great way to show your creative side, it's a great and unique decor item! For the full inspiration and instructions from Crazy Little Projects, click here.
8. Halloween Figurines for Scary Halloween Decorations from Sadie Seasongoods
For all you extra spooky people out there who also love a good antiquing trip. Check out Sadie Seasongoods's site for inspiration here.
7. Spider Nest Lanterns from Crafts by Amanda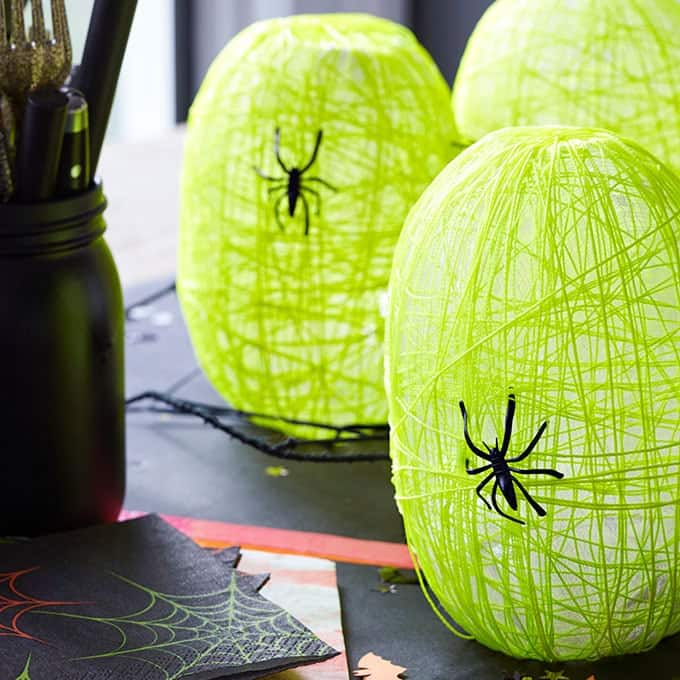 A little more on the complex side but still comes out to being a great decor item! CHeck out Amanda's website for the full list on instructions here.
6. Halloween Wine Glass Candles from The Decorated Cookie
Such a great girls night in idea! Just don't use the wine glasses filled with wine okay. Click here for the full list of directions to host the most perfect wine night.
5. Coffee Filter Ghost Lollipops from Happiness is Homemade
I USE TO MAKE THESE BAD BOYS ALL THE TIME (but with tissues but hey same concept). For this adorably easy craft that makes perfect handouts for the spooky szn, click here.
4. Spooky Spider Soap from Happiness is Homemade
I LOVE THESE! So easy to make and would also make a great little spooky gift for friends. Plus I'd love to see the look on someone's face if they didn't realize the spider was there at first. For the full directions, click here.
3. Halloween Craft: Candy Corn Wreath from Woman's Day
See… now THIS can be a craft for all you candy corn haters who don't like to eat them! For this craft, check out the full instructions on Woman's Day here.
2. Melted Crayon Pumpkins from Mom Spark
Such a simple craft with an insanely cool outcome! Just be careful of the crayon splatter when you use your blow dryer! For the full list of instructions from Mom Spark, click here.
1. Homemade Glow-in-the-Dark Slime from a Pumpkin & a Princess
Who doesn't love some great slime or more importantly glow-in-the-dark slime. Sign me UP. For the full instructions from a Pumpkin & a Princess, check out their website here!