Been seeing this trend around the internet a lot lately, and decided to join in the fun. So lets think back to when we (20-something years olds) were young and would go to Disney World. Honestly, lets be real, things were very different back then! So lets take a trip down memory lane and reminisce on 20 Disney things that should have never left. Be prepared for a nostalgic-induced cry session.
1. Honey I Shrunk The Kids Play Park
Whether it was slowly approaching a giant snooping dog nose or crawling through ant holes, The Honey I Shrunk The Kids Play Park in Hollywood Studios (or the OG of MGM) was never one to disappoint. I remember spending hours running around that area right next to the Backlot Express and was devastated when I heard it was closing.
2. Streets of America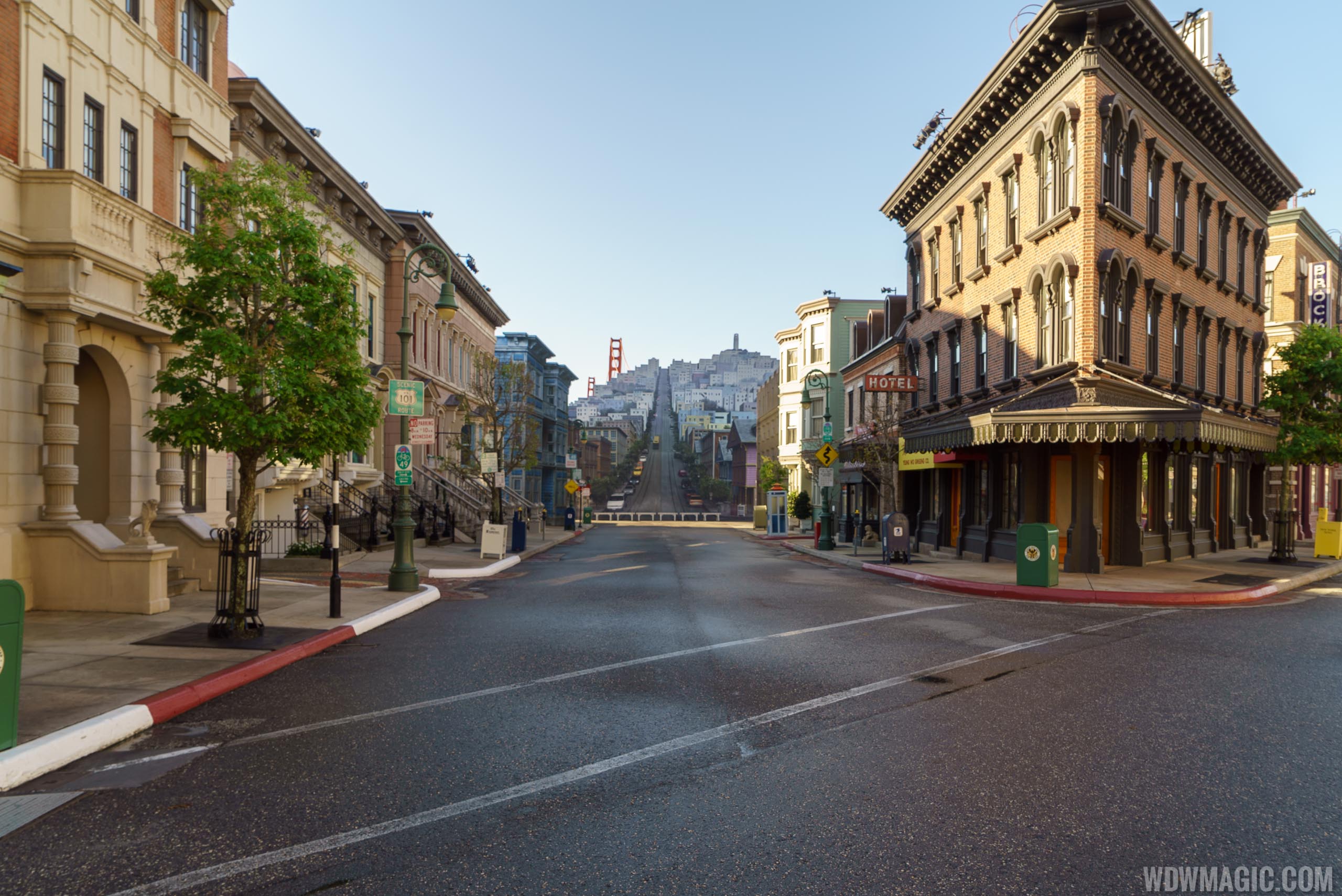 Another staple of the park back when it was showcased as MGM Studios, the Streets of America brought the idea of giant movie sets to life. Disney basically built an entire city block set based off some of the most well-known cities in America like NYC and San Francisco. The giant building props mixed with background city life noise gave this street a personality of its own. Plus who could forget the Power Rangers or Lightning McQueen roaming the streets at time!? And don't even get me started on Christmas and the Osborne Lights. Ugh RIP.
3. Hercules Victory, Aladdin & Mulan Parades
SERIOUSLY GUYS. Best parades to ever exist in Disney really. How can you not go wrong with having PARADES based off these three iconic Disney classics?! The detail and costume/flat designs that went into these parades were truly spectacular and should never be forgotten.
4. Basically ALL of MGM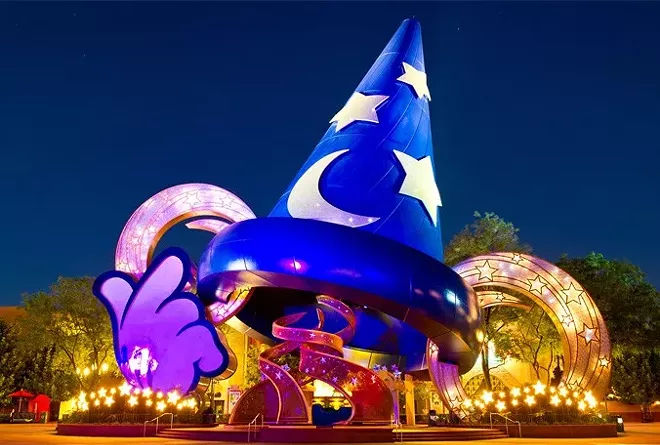 BRING BACK THE GOOD OLD DAYS. Bring back the Sorcerer's Hat and The Great Movie Ride. Bring back the Backlot Tour and the Hunchback of Notre Dame Stage Show. Bring back basically all of the glamorous 20s Hollywood theming that would give this park life. Now the park just seems to be one big identity crisis. Bring back all the OGs, seriously!
5. Tapestry of Nations/Dreams
Going back to parades that unfortunately no longer exist, Epcot's Tapestry of Nations/Dreams parades were gorgeous displays of what a united world could be like. It taught children the importance of accepting everyone and understanding the importance of cultural differences. It also focused on the importance of having dreams and making them goals in life. With the blending of all the countries within Epcot into costumes, floats and music, it was truly an amazing sight to see. I highly recommend looking up the music on YouTube and listening to it. Gives me goosebumps.
6. Innoventions
Now when I say Innoventions, I don't mean the color lab or lame little exhibits they have now. (Sorry Disney no offense). I'm talking East Side and West Side. Where's The Fire and playing tag for ice cream cones. Basically what I'm trying to say is some of you didn't jump out a foam window to escape a spotlight fire and it shows.
7. Kidcot Fun Spot
No. Not decorating a Duffy Bear, or even getting an Epcot Passport stamped. Before all of that there were masks. Masks that would be stamped with a variation of Mickey depending on the country and accessories on the side to showcase all the countries you've visited. Masks that you would be able to color and work on in each country to create a true masterpiece. A mask that would have your name written on it in both Japanese and Chinese characters along the handle. Unpopular opinion: Duffy Bear ruined Epcot and I'm sorry to say I am slightly glad he's gone. Sorry. Rant over I promise.
8. The Maelstrom and Norway's Obsession with Trolls
Why Norway decided to 'Let It Go' will forever be beyond me. I understand the Frozen hype, but the Maelstrom was an amazing ride that shared the folklore of Norway's culture. Plus who doesn't like being cursed by a three headed troll then thrown backwards down a waterfall?? Sounds like a grand old time to me. Plus walking around the pavilion in general was also slightly different back in the day because they had little hidden trolls everywhere! It was like a fun game of trying to spot them all over the place.
9. Kim Possible World Showcase Adventure
Before it was an app you would have to download on your phone or before you were helping Perry the Platypus, you received your very own Kimmunicator. The world use to be safe thanks to you, Kim and Ron working side by side to defeat all of the villains from the Kim Possible Universe. From the Evil Dr. Drakken and Shego, to Duff Killigan and Queen Bebe, the true OG villians will always needs to be defeated! Walking around the countries and pressing buttons on the Disney operated phone to make objects around you react was life changing as a child.
10. The Wonders of Life Pavilion
Back in the old days of Future World there was more pavilions than just the Land and the Seas. There was the Wonders of Life Pavilion that was jam packed with attractions that showcased the importance of your body. Attractions included Cranium Command where you worked with Buzzy to help navigate a boy through puberty, The Making Of Me where Martin Short talked about childbirth (an interesting concept right there), and The Kitchen Kabaret where we learned about healthy eating!
11. Ellen's Energy Adventure
Ellen DeGeneres, Bill Nye and Alex Trebek. How can this Holy Trinity be shut down? In this GLORIOUS 45-minute attraction that loved to breakdown, Ellen and Bill learned the importance of energy in our world and where exactly it comes from. Unfortunately it was shut down to make way for the new Guardians of the Galaxy attraction, but this ride in particular will ALWAYS hold a special place in my heart. Also someone better give Ellen her robot back. I bet Stupid Judy stole it.
12. Tarzan Rocks!
Over in Animal Kingdom before you explored the Big Blue World with Nemo and Friends, you would rock out to Tarzan shredding it on a skateboard. With Phil Collins blessed music composition and much like the style of The Festival of The Lion King, Tarzan Rocks! was an amazing stage show that left its crowds in awe.
13. Push The Talking Trash Can
If you don't remember Push then you're too young for this post. Push was a well-loved trash can that resided in front of Disney's Animal Kingdom. The only catch? Push was known for moving around and talking to guests! So why did Push go away? Unfortunately, Push would tend to be crowded by a few too many eager children and aside from not being a big fan of crowds, Push would have a tendency to accidentally knock a kid or two down while moving (my brother included).
14. Toontown
Even though Disneyland still has this staple in their parks, it still hurts when the nostalgia from Disney World's Toontown hits. Home to Mickey, Minnie and the rest of the gang, Toontown was basically a fully interactive city where young tikes could explore the homes of their favorite characters. From Donald's boat where you would get slightly damp, to baking a cake while waiting to meet Minnie Mouse, this section of the park will never truly be forgotten.
15. Main Street Electrical Parade
*TECHNO VOICE*
"Ladies and gentlemen, boys and girls, Magic Kingdom proudly presents our spectacular festival pageant of nighttime magic and imagination in thousands of sparkling lights and electrosynthomagnetic musical sounds, The Main Street Electrical Parade!" Ugh wow good stuff. Who doesn't love getting that tune stuck in their head on repeat for the entirety of their vacation?
16. SpectroMagic!
I'll do ya one better right here: the SpectroMagic Trumpets still give me chills. So so so good. One of my all time favorite Disney nighttime parades. I remember this parade the most as a child and honestly it is one of my most prevalent nighttime memories from Magic Kingdom! For those of you who never got to experience SpectroMagic, I highly recommend YouTubing the music and listening! My favorite parts of the parade included all of the floats lights coming to life in color based on the music that was playing around it! Andddd of course the creepy little men who spun around at the beginning.
17. Cinderella's Surprise Celebration & Dream Along With Mickey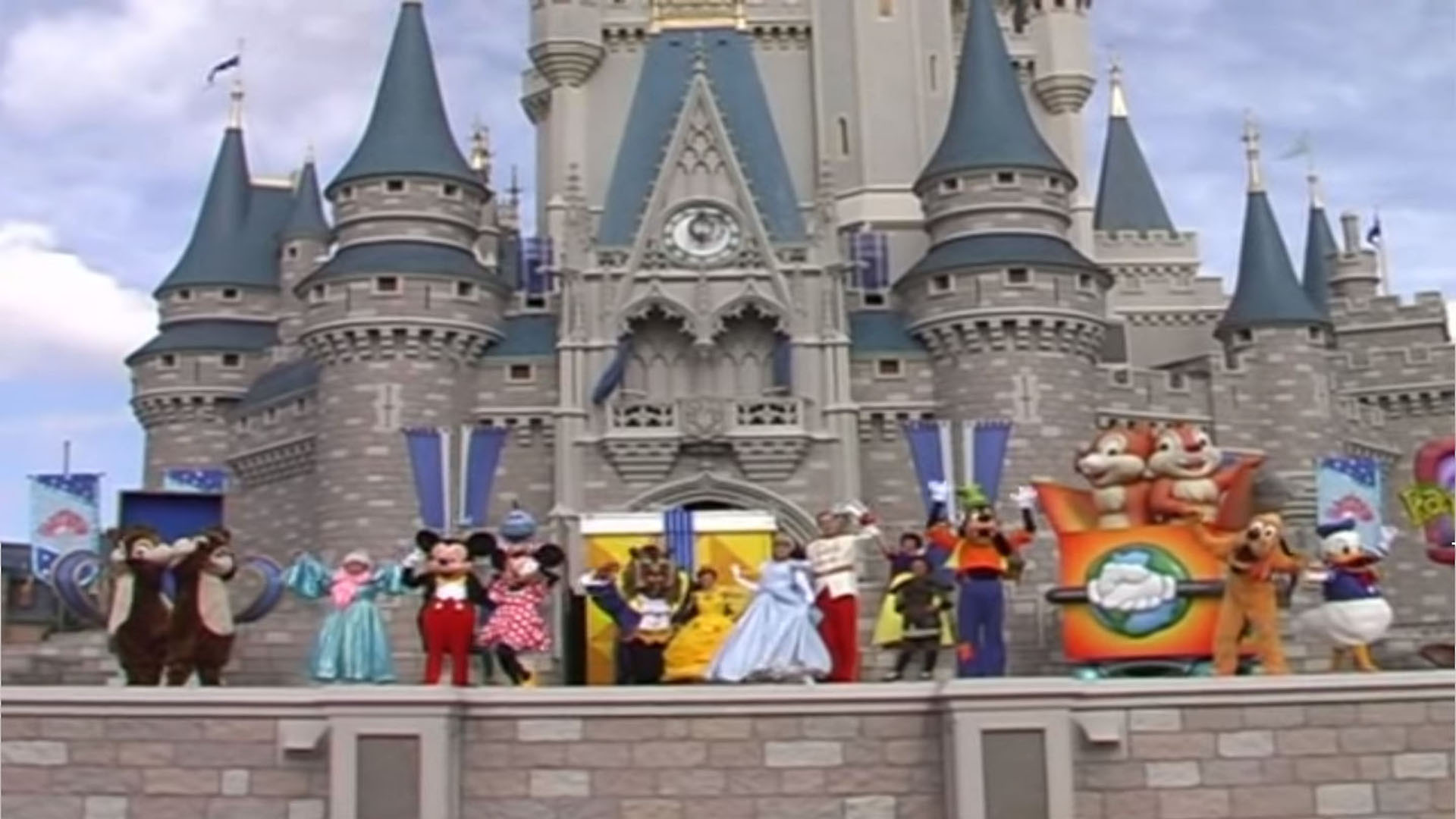 I think this is where my true love for Peter Pan may have started. Picture this: Cinderella's just trying to be the kind-loving princess she is and gifting the audience with special gifts. That is until the Evil Queen arrives (why not the evil step-mother?, besides the point) and leaves a gift of her own. Then Donald (surprise surprise he's ALWAYS causing trouble) decides to take it upon himself to open the gift while people cry out NO! Then suddenly Captain Hook, Shan Yu and Jafar pop out to spoil the celebration. That's when Peter Pan, Mulan and Genie (an AMAZING heroic duo if you ask me) come together to save the day!
Cinderella's Surprise Celebration then ended to make way eventually for Dream Along With Mickey. The shows had some pretty similar concepts but were still both equally amazing in their own ways! Basically, Donald doesn't believe in the power of dreams (once again are we really even surprised?) and then Maleficent being the badass villain she is decides to show up and turn the Happiest Place on Earth into a place of nightmares. That's when Donald realizes he needs to do something and eventually saves the day! Another day, another life lesson learned by Donald.
18. Shrunken Ned's Junior Jungle Boats
Not gunna lie, I didn't even fully realize these little guys were gone until a few years ago! I remember going down next to the Jungle Cruise attraction, waiting my turn for a mini boat to open up, then throwing a few quarters into the machine to wiz the tiny boat around for a few minutes! They use to be so difficult to navigate but it certainly occupied my brother and I for awhile when my parents needed a well-deserved break! Some of the little boats can now be found in Skippers Canteen across the way!
19. Snow White's Scary Adventures and the Skyway Remains
Okay so not my favorite ride by ANY means, in fact it was more of a torture device in my memory, Snow White's Scary Adventures use to reside where the now Princess Fairytale Hall is located. This ride basically portrayed to dark side to Walt Disney's Snow White including a few Evil Queen/Witch jump scares and a whole lot of darkness! Although I was not a huge fan, I did appreciate discovering that the animatronics at the end of Seven Dwarfs Mine Train (Snow White and the Dwarfs dancing in the house with the Evil Witch by the door) are originals from the attraction to pay tribute to it!
A little further down in Fantasyland where the Tangled Bathrooms now reside use to be the entrance spot for the Fantasyland Skyline. Although I had not gone to Disney prior to its closing, I do remember the entrance and building standing empty for years until it was replaced. I always looked at it in awe wondering what the ride must have been like. My parents would tell me stories about seeing the park from up high and it always fascinated me.
20. Paint Brushes on Tom Sawyer's Island
Not only did you have to sprint to the specific ride you wanted a paper fast pass for, but when arriving to Magic Kingdom, it was important to hop right in line for the first boats that set off to Tom Sawyer's Island! Why? Well if you were one of the first to arrive on the island there would be a special treat in store for those who knew how to pay the game right. 3 paint brushes were hidden throughout the island. The families who found at least one of these paint brushes would then be gifted with a set of FastPasses to one of the three Magic Kingdom mountains of choice! Those being Splash, Thunder or Space. I believe over time they may have adapted the FastPasses to include more attractions prior to halting this game due to some families having smaller children with them. Sad to say this does not happen anymore because apparently some families took this game a little too seriously and it led to a few conflicts here and there.
BONUS: Paper FastPasses
Cause who didn't love sprinting to their ride of choice or in my case making my dad run to the ride we wanted a FastPass for first thing in the morning. Lines would pile up just to get FastPasses before they either got too late in the day or ran out completely! Also who didn't love going into Fantasyland to get a FastPass and suddenly have a surprise extra one pop out for either Mickey's Philharmagic or Winnie the Pooh!? Good times!
Thank you guys so much for taking the time to read this post and stroll down memory lane with me! If you liked it please give it a big thumbs up or comment down below because I would LOVE to make a part 2 considering there is so much I didn't put into this one nostalgic post!