Hello hello! So today's 31 Days of Halloween 2020 inspiration came from me researching ideas for a small Halloween get together. I wanted to have a few friends over to host a brunch/lunch style meal and of course wanted all of the food to be Halloween Pinterest perfect. So while looking online I found the idea of making a Halloween style charcuterie board and absolutely fell in LOVE with the creativity of it! Who doesn't love a good charcuterie board?? And who could say no to a Halloween or even, dare I say it, CANDY one! To help inspire others by these super festive ideas, I decided to compile a small list of inspiration to get the juices flowing. Hopefully these ideas will help you get the ball rolling on your Halloween charcuterie board and if you like any of the options below, the link to the creators website can be found directly under the pictures! EAT UP!
10. The 'Spooky Halloween Cheese Board' From Valerie Azinge (@mydigitalkitchen)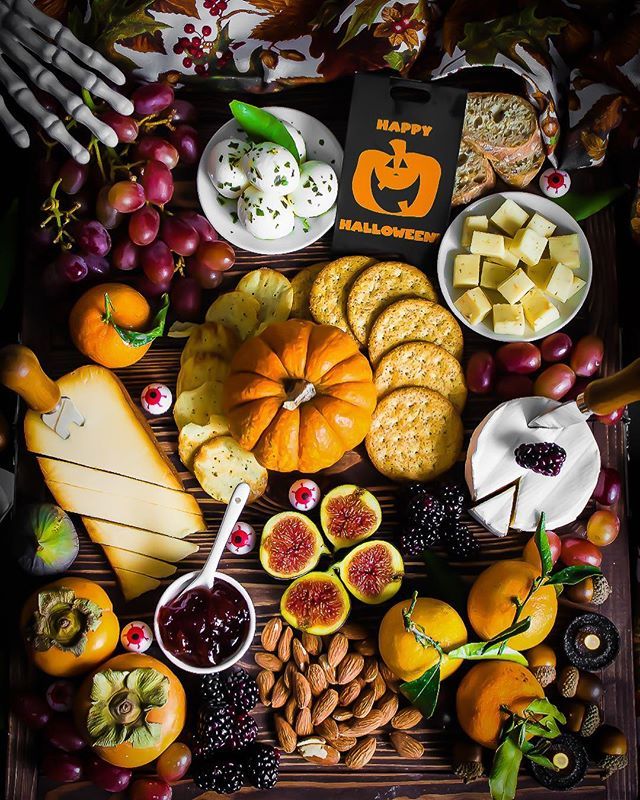 Decided to start things off with your basic charcuterie board with some lovely little Halloween and fall touches. I love this one because the items are all very seasonal but not too over the top festive. It has a very nice fall elegance about it.
9. Easy & Simple 'Halloween Charcuterie Board' From Recipe Diaries
Looking for something quick, easy, and simple but still with options to choose from? Then this is a great little platter for you to take inspiration from! Basically pick all your favorite treats and display them in a nice and neat fashion on the plate!
8. Ultimate 'Halloween Candy Charcuterie Board' From Pint Sized Baker
Now were talkin' festive! Absolutely love the bright colors and creativity that went into this Halloween candy board! If you're looking to take things to a truly new level besides the excessive amounts of candy on top, try adding a festive Halloween plate as your platter!
7. 'Festive Halloween Charcuterie Board' From Jennifer Maune
Talk about aesthetically pleasing! What I love about this board inspiration is she chose items that all have the same color scheme and flow nicely together. I do love the how all of the accent bowls are white as well and complement all the white items on the board.
6. 'Fun And Festive Halloween Cheese Board' From Bless This Mess
Another classic board with a very nice and subtle fall twist. Accent your board with small Halloween treats, a mini pumpkin, or even have the items included on your board have those classic fall flavors.
5. 'Halloween Party Platter' From Yummy Mummy Kitchen
This is probably the most simplistic or subtle Halloween board I have here on this list. Obviously the charcuterie board as a whole is anything but simplistic, but the Halloween touches are so perfectly minimalistic they may have you doing a double take! The olive spider is an adorable little touch but I bet you didn't notice the ghost & bat cheese slices the first time around!
4. 'Pumpkin Snack Board' From The BakerMama
Feeling festive but not sure how to fully get that Halloween aesthetic going? Try making a charcuterie pumpkin! The BakerMama has a very nicely done tutorial on what items to get and how to place everything properly to get your food Jack-o-Lantern just right! Make sure you get all of your favorite Orange picky foods together and get creative with them!
3. 'Halloween Charcuterie Board' From Favorite Family Recipes
Now this board is really calling my name. I say that because not only is it super festive and brightly colored, but most of the items on top of the board have to be created as well! I love getting crafty with desserts and these monster Rice Krispies, ghost Nutter Butters, and Oreo bats look like a lot of fun to make! Adds a little extra excitement to the idea of making a Halloween charcuterie board in my opinion!
2. 'Mickey Halloween Candy Board' From Cutefetti
Are we surprised? Nope. Of course we all know I had to throw at least ONE Disney-themed board in here. Love the mix between Disney and Halloween this creator has going on! Super festive and would even be great for a children's party (or any party really cause let's be real everyone could use a little Mickey in their lives!).
1. For The Very Ambitious, 'Zombie Cheese and Prosciutto Halloween Party Skull' From Elizabeth Heiskell on Today
Ya know, I have no real words for this one other than if you're looking to get REALLY into the Halloween spirit then try it out. Amazing work and detail, but I don't know if your guests will want to stare at this guy for too long, or put their hand too close to take anything off the board in fear of it being bitten off for that matter.