So when it comes to Thanksgiving, I think we all know the day is basically revolved around eating (hence why it's one of my favorites). Odds are you consume well over your normal calorie intake on this day and odds are it's foods you don't normally eat on a daily basis. Well, if you're like me, rich food like that can sometimes mess with your stomach and you can end off the night with feeling a little guilty. Well, I decided to compile a list of healthy alternatives to some classic Thanksgiving dishes! Let's dig in.
15. Healthy Sweet Potato Casserole (Paleo, Vegan, & Sugar-Free) from Joy Food Sunshine
Now let's start this post off on the right foot shall we? I'm trying to prove to the world that you can still enjoy all of your Thanksgiving favorites, just in a slightly healthier manner. Check out this Sweet Potato Casserole recipe that I believe perfectly proves my point! For the full recipe, check out Joy Food Sunshine's site, here.
14. Roasted Brussels Sprouts and Cinnamon Butternut Squash with Pecans and Cranberries from Julia's Album
It. Is. Not. Thanksgiving. Without. Brussels sprouts. Cranberries. Sweet Potato (or Squash in this case). And. Walnuts. JUST SAYING. Check out this amazing combination of flavors from Julia's Album's site here.
13. Butternut Squash Soup from Food Network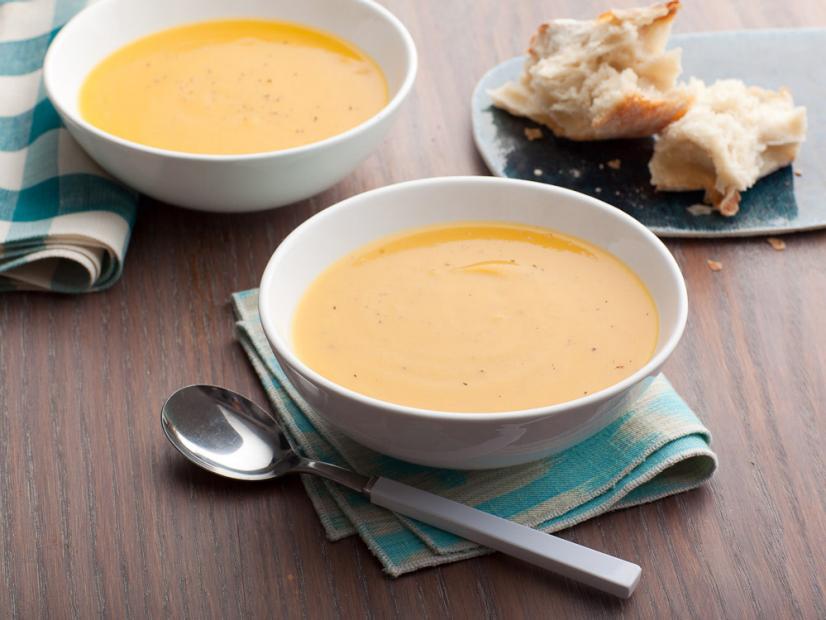 I am a sucker for some good Butternut Squash or pumpkin soup! It's always so hard though because whenever I go out, any chain restaurant always ends up making the soup wayyyy too salty and then something that's suppose to be healthy turns unhealthy. I will admit this soup looks a little less thick than I like my soup to be, but still looks equally as delicious. Check out Food Network's recipe here.
12. Healthy Green Bean Casserole from A Sweet Pea Chef
Another staple in my eyes when it comes to Thanksgiving is some good green bean casserole. The downside? People hate on it way too much for one thing and second it's almost never gluten-free thanks to the crunchy onion topping or the thickened cream of mushroom. Check out A Sweet Pea Chef's healthy alternative to the classic dish on her site here.
11. Healthy Sweet Potato Skins from Pinch of Yum
I think these would make either the perfect appetizers or even day after meals with some leftovers from the previous day! The idea alone gives me a lot of inspiration for other dish options. Check out the recipe for these skins by Pinch of Yum here.
10. Fall Harvest Salad with Pumpkin Goddess Dressing from The Seasoned Mom
The great thing about this salad is it could be a great festive appetizer or a main course for those of you who are willing to take healthy to the next level (a level I would personally never take on Thanksgiving but to each their own). For the full recipe to this salad with all my favorites, check out The Seasoned Mom's site here.
9. The Best Thanksgiving Turkey Recipe without Brining from Joyful Healthy Eats
Brining is literally just a fancy word for basking something in salt and quite frankly as good as it is, I always end up feeling like a balloon the day after eating turkey. So this recipe is a great alternative to cut down on that holiday sodium intake! Check out the full recipe by Joyful Healthy Eats here.
8. Garlic Mashed Potatoes from Skinnytaste
You can't really have Thanksgiving without Mashed Potatoes right? I mean I could always opt out or switch out for mashed sweet potatoes, but that's just me. Check out this healthier alternative to a usually butter-filled dish by Skinnytaste here.
7. Garlic Mashed Cauliflower from The Cookie Rookie
OR if you're opting to cut mashed potato carbs out completely on Thanksgiving, check out this great mashed cauliflower recipe that will probably fool everyone into thinking it's the real deal. For the full recipe, check out The Cookie Rookie's site (I know I've posted this recipe before but it just looks so good!) here.
6. Quinoa "Stuffing" (Quinoa with Butternut Squash, Cranberries & Pistachios) from Gimme Some Oven
ONCE AGAIN ALL MY FAVORITES. But this time in stuffing form for those of you who are either like me and can't eating bread stuffing or those just looking for a healthier dish in general. Check out this great recipe by Gimme Some Oven here.
5. Thanksgiving Roasted Veggies from Living Well Kitchen
Whether you're eating for one or just looking for a quick, healthy way to toss up some veggies, check out this awesome recipe from Living Well Kitchen on their site here.
4. The Ultimate Healthy Cornbread from Amy's Healthy Baking
CORNBREADDDDDD enough said really. Plus it can be easily made gluten free unlike dinner rolls and cornbreads way better in my personal opinion. Check out Amy's recipe (I follow her on Facebook too, she's great!) here!
3. Air Fryer Garlic Herb Turkey Breast from Makinze Gore on Delish
Not going to lie, the first thing I noticed here was that I have never seen Makinze spelled that way, but it's super cool. ANYWAYS, air frying is a trend that is very popular at the moment. It's quick, easy, and pretty much mess-less for the most part. So how about taking the most stressful piece of a Thanksgiving meal and making it easier? Air fry that turkey! Take the stress out of the holiday and enjoy an equally amazing bird. For the full recipe on how to properly air fry a turkey, check out Makinze's recipe on Delish here.
2. Skinny Turkey Gravy from Healthy Fitness Meals
Turkey's a little dry? Or maybe you're just a sucker for gravy on everything when it comes to Thanksgiving? Well check out this great recipe that will help you make a much healthier gravy but still with all the amazing flavor of the regular stuff! On top of that, it's gluten-free unlike a lot of the store bought brands! For the complete recipe, check out Healthy Fitness Meals' site here.
1. Roasted Squash, Carrots & Walnuts from Taste of Home
Last, but certainly not least, if you're like me, when it comes to veggies, I'm a sucker for all things orange. My mom will always give me the same speech about how green veggies are healthier than orange ones, but I just can't help it, carrots, sweet potatoes, and squash are just so much better in my personal opinion. So check out this great roasted recipe from Taste of Home with all of my orange veggie favorites and walnuts on top! For the full recipe, check out Taste of Home's site here.
COOK IT UP!