I'm a big fan of baking and creating desserts even if I can't consume a lot of dessert food (gluten-free). But, I do love making things for other people and getting creative with it when I can! So I decided to compile a list of some adorable DIY Halloween inspired desserts that everyone can have a fun time creating!
20. Loaded Peanut Butter Brownies from Brit + Co
What a great way to use some left over Halloween candy (or before Halloween even occurs). These stuffed peanut butter brownies with a PB frosting looks ghoulishly delicious! Find the full recipe by Brit + Co here!
19. Ghost S'mores Dip from Delish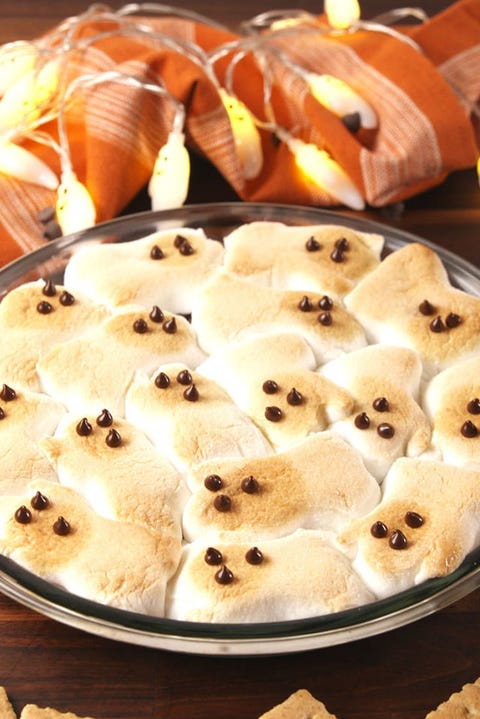 As Delish says, this dish is 'scary easy' to make! A ghostly take on a classic dip that will leave your guests 'dying' for more. For the full recipe by Delish, click here!
18. Dracula Dentures from Delish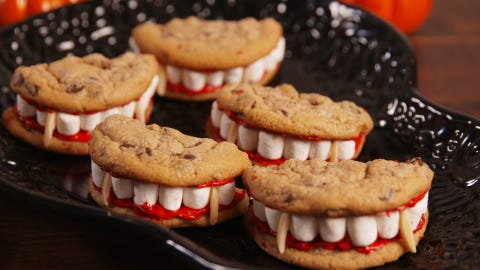 It's not often that you find your dessert grinning back at you! Check out these cheerfully wicked treats that are incredibly easy to make! For the full recipe by Delish, click here!
17. Black Cat, Bat, Spider, and Mice Doughnuts from Woman's Day Kitchen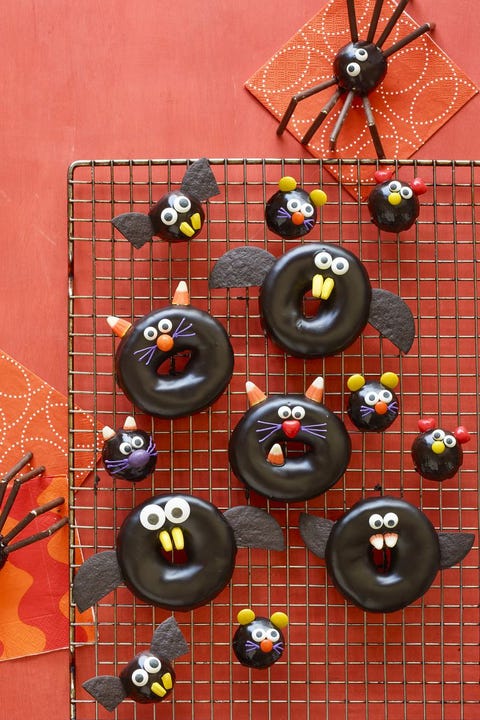 How adorably haunting amiright? The great thing about these treats is you don't even have to make the doughnuts if you didn't feel like going into that much effort! You can simply buy the pre-made doughnuts from the store and then add the decor! The full instructions by Woman's Day Kitchen can be found here.
16. Banana Mummies from Woman's Day Kitchen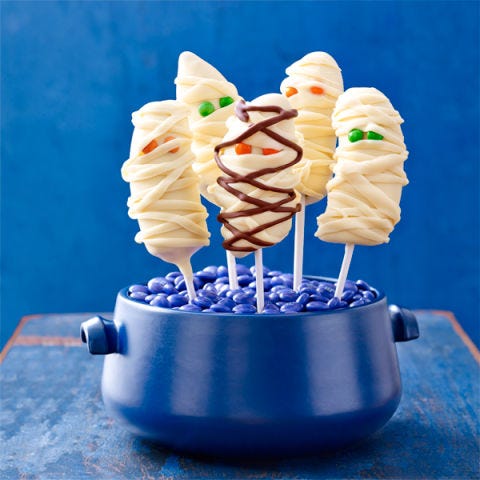 Another amazing treat that will have you screaming for you 'mummy' for another, are these Banana Mummies! If you want a fun treat that may be a little bit on the messier side to make, check out Woman's Day Kitchen's full instructions/ingredients list here!
15. Candy Corn Cupcakes from The Comfort of Cooking
Yes, I am one of those people who LOVES candy corn, don't come at me just because you're a hater of an amazing Halloween delicacy! Anyways, I always see recipes for candy corn cupcakes online, and after some hunting, I loved the way The Comfort of Cooking's looked the most! The only enhancement I would suggest is layered frosting that matches the colors of candy corn as well! Just to add that extra layer of fun! But for the full recipe click here.
14. Halloween Peanut Butter Spider Cookies from Mommy Muses
Slap candy eyes on just about anything and I swear the cuteness level is enhanced by tenfold. Check out these simply but yummy treats by Mommy Muses over on their website here.
13. Monster Rice Krispie Treats from Lil Luna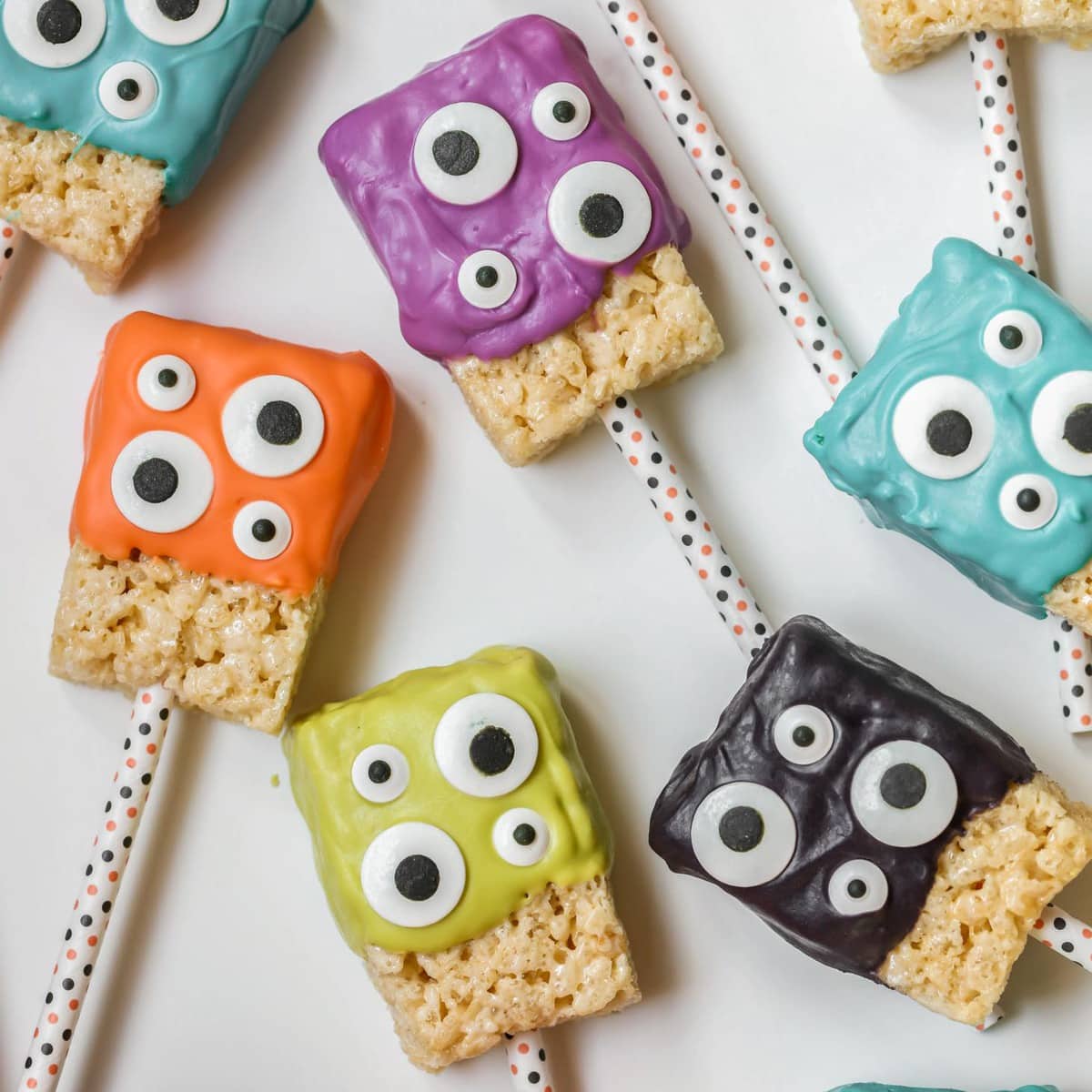 See what I mean about the candy eyes? Like how cute are these little guys!? This is a fun way to really get creative and put a personal touch on each Krispie Treat that you make! For the full instructions, check out Lil Luna's page here.
12. Candy Corn Rice Krispie Treat from Cookies & Cups
Another round of Rice Krispie Treats, but this time with my favorite enhancement! Add an little extra Halloween-time sweetness by putting some candy corn into the classic Rice Krispie recipe! For the full recipe by Cookies & Cups, check out their website here!
11. Easy Dirt Desserts for Halloween from really, Are You Serious?
You've heard of worms in dirt, but how about tombstone in soil? I pretend I'm funny okay people. Anyways, these peepily delicious treats are crazy easy to make and are so so so good. So if you're about to ask me really, Are You Serious? Then head on over to their website for the full instruction list here!
10. Chocolate Covered Strawberry Ghosts from Joyful Healthy Eats
If you ask me, these strawberries look 'boo'-tifully delicious! Check out this great healthier alternative to other Halloween desserts on Joyful Healthy Eats's website here.
9. Halloween Oreo Pumpkin Treats from Meatloaf and Melodrama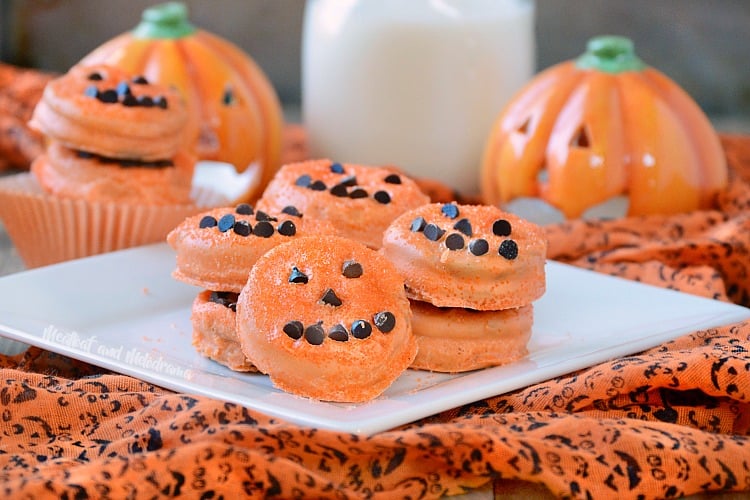 I think these little pumpkin pals are so cute and it's such an easy way to transform a well-known Oreo, into something a little spookier! Check out the full instructions on how to make these little guys on Meatloaf and Melodrama's (can we take a minute to appreciate this website name too) website here!
8. Halloween Popcorn Treats from Food Network

Want an award winningly simply Halloween treat courtesy of Giada De Laurentiis? Then check out these Food Network finds on their website here for the full instructions!
7. Halloween Monster Apples from Parenting Chaos
A great treat that is a perfect way to spend some time with the kids (or friends or alone, I don't judge), but also keep the dessert making to a healthy level! Instead of some Dracula Dentures we have some Monstrous Apples! Check out the full instruction list for this recipe by Parenting Chaos here!
6. Spooky Caramel Apple Eyeballs from Big Bear's Wife
If you love caramel apples like me, this is a great 'eye-catching' twist on the classic pleasure. Check out how surprisingly easy these caramel apples can be made for yourself on Big Bear's Wife's website here!
5. The Witch's Heart- Halloween Cocktail from The Flavor Bender
Now after all this dessert making I'm sure every adult will need a good beverage to wash it all down with. Check out these horrifically strong cocktails from The Flavor Bender, as well as the complete recipe, on their website here.
4. Melted Witch Martini from 3 Yummy Tummies
Okay I needed to add just one more mainly because the color and aesthetics of this drink are just amazing! Check out how to make this spine-chilling martini for yourself on 3 Yummy Tummies's website here!
3. Zombie Finger Cookies from All Roads Lead to the Kitchen
I'm not really sure if I should be amazed or genuinely disgusted by these Hocus Pocus inspired zombie cookies! They just look so realistic! Talk about a dessert that's 'on point.' Dang I'm on a roll today with the puns. ANYWAYS, find out how you can have a fresh supply of zombie fingers in your home on All Roads Lead to the Kitchen's website here!
2. Monster Mash Candy Bark from A Wicked Whisk
This treat will definitely have you doing the monster mash (whether you're mashing up the bark or simply dancing to how good it is). Check out this vibrant bark recipe from A Wicked Whisk here!
1. Black Magic Cupcakes with Mystical Sprinkles from Wander Spice
To finish things off, I figured I'd throw in a little bit of black magic to the mix. You're mouth might change color completely by the time you're done diving into these or they might even just convince you to join the dark side, but check out how to make these mystifying treats for yourself on Wander Spice's website here.