Hello everyone! I am back again! For those of you who live in the U.S., it's almost time to whip out everything red, white, and blue that you own. It also means time for cookouts, food, and fireworks. So today, I decided to compile a list of some awesomely patriotic desserts that will definitely make you the star of the cookout season! Get yourself ready for Fourth of July and summer as a whole by checking out the food below!
13. Pretzel Sparklers From Martha Stewart
Decided to start things off here with something easy! When it comes to having a good time, it's pretty clear that Martha Stewart knows how to party. So why not enhance your party with these super festive and cute Pretzel Sticks? Check out the how-to's on this simple recipe on Martha's website here!
12. Red White and Blue Pretzel Bites From The Gunny Sack
Another easy treat to make with a satisfying outcome! These patriotic pretzel bites are definitely a crowd pleaser. When a treat is perfectly bite sized, you may need to plan on making a couple dozen to ensure everyone gets their fill! For the full recipe and how to make these little delicacies, check out The Gunny Sack's site here.
11. Red, White & Blue Cheesecake Strawberries By Lindsay Funston From Delish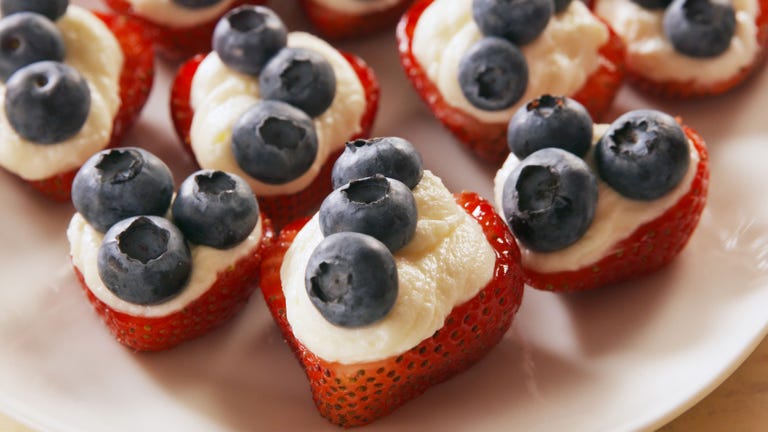 Can you tell I'm really into the bite-sized treats for the beginning of this article? I like to try to start these posts off with some easier desserts for those who are looking for a quicker recipe or just overall something simple. As for these healthier dessert alternatives, I love any fruit mixed with cheesecake! It just adds a little more sweetness! For the full recipe by Lindsay Funston, check out the Delish site here.
10. Red, White, and Blue Cherry Cheesecake Macarons From Baking A Moment
For those of you feeling a little more adventurous in the kitchen, try this awesome Macaron recipe! It blows my mind how much time and effort truly goes into creating these delicious little treats! With these patriotic versions of the classic dessert, you're sure to be the hit of the BBQ! For the full list of instructions, check out Baking A Moment's site here!
9. Patriotic Easy Fudge – No Bake By Catalina Castravet From Sweet & Savory Meals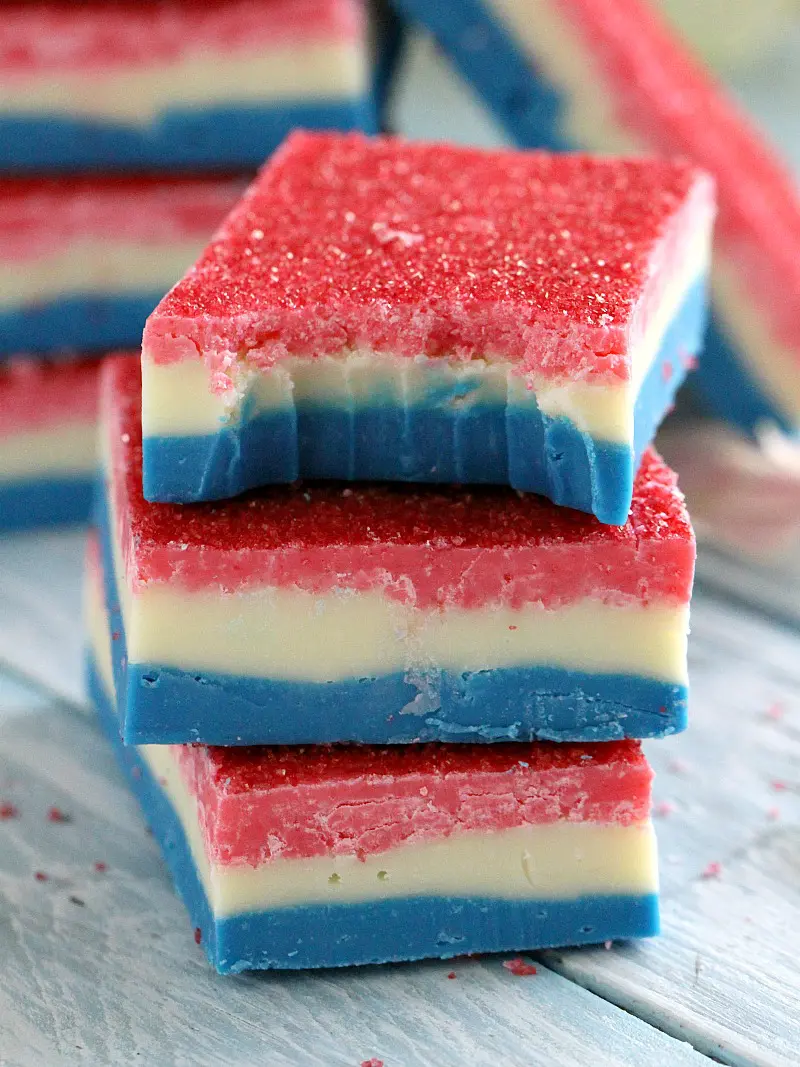 I won't lie, when it comes to fudge, I'm not the biggest fan. But these little Red, White & Blue bad boys look amazing! Definitely would not turn down the opportunity to try one! I also love the addition of the red sprinkles on top, it really enhances the dessert and brings fudge to a whole new level of sweetness overload! For the full recipe by Catalina Castravet, check out Sweet & Savory Meals's site here.
8. Red White and Blue Bark By Amanda From The Chunky Chef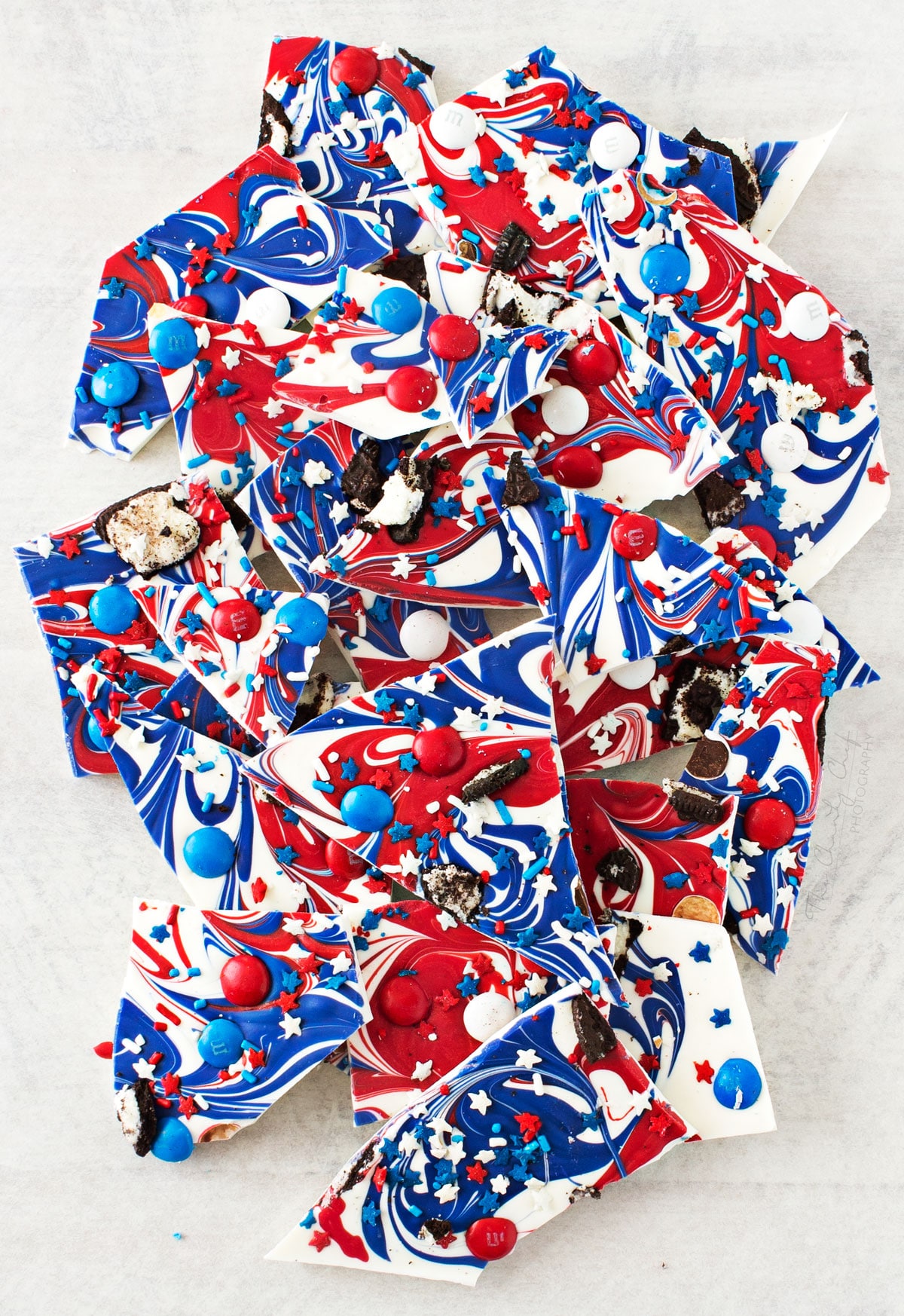 This picture alone makes this bark look like a true work of art. Like a broken up masterpiece really. The way Amanda was able to tie dye the colors so perfectly really blows me away! Bark is a great and easy treat to make for truly any holiday! For the full set of instructions and ingredients for this patriotic bark, check out The Chunky Chef's site here!
7. Red, White and Blue M&M's™ Brownies From Betty Crocker Kitchens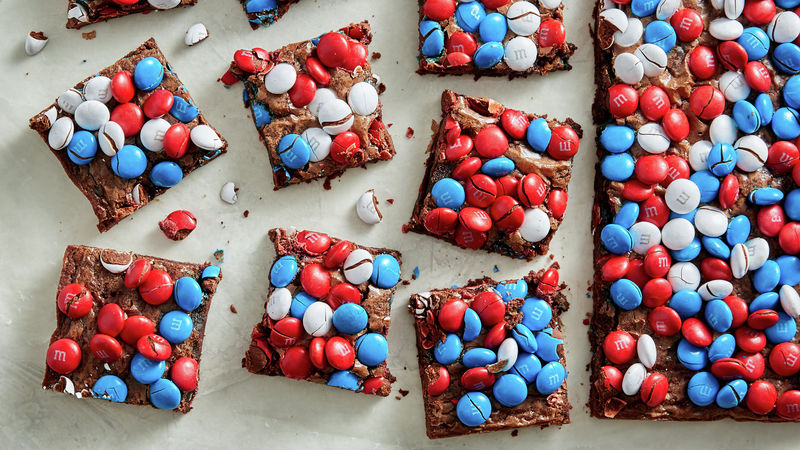 Obviously had to have at least one brownie recipe in this post! For all you chocolate lovers out there, this is the perfect easy recipe for you! You really can't go wrong with topping your brownies with M&M's, especially with patriotic ones to add a little extra festiveness! For the full recipe, check out Betty Crocker Kitchen Recipes here.
6. Chocolate-Covered Frozen Bananas From Food Network Kitchen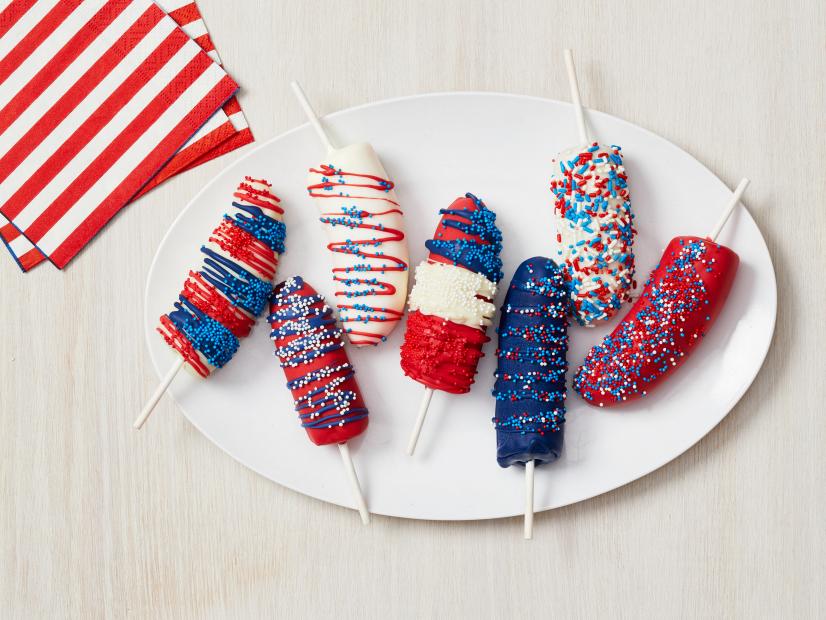 When it comes to frozen desserts, chocolate covered bananas are definitely up there as one of my favorites (aside for ice cream of course). They're fun to make and really allow you to be creative in how you design/decorate them! You really can't go wrong when making these! For the full recipe for these Red, White & Blue frozen bananas, check out the Food Network Kitchen's site here.
5. 4th of July Ice Cream Cone Cupcakes From Crayons & Cravings
Talk about bursting with color! This dessert definitely knows how to exude festivity and you won't have to worry about them melting! It's the joy of ice cream cones without the ice cream! Substitute your ice cream and whipped cream for some cake and frosting to enjoy these bad boys! For the full how-to for these vibrant cake cones, check out Crayons & Cravings's site here!
4. Red White & Blue Rice Krispie Treats By Jamielyn Nye From I Heart Naptime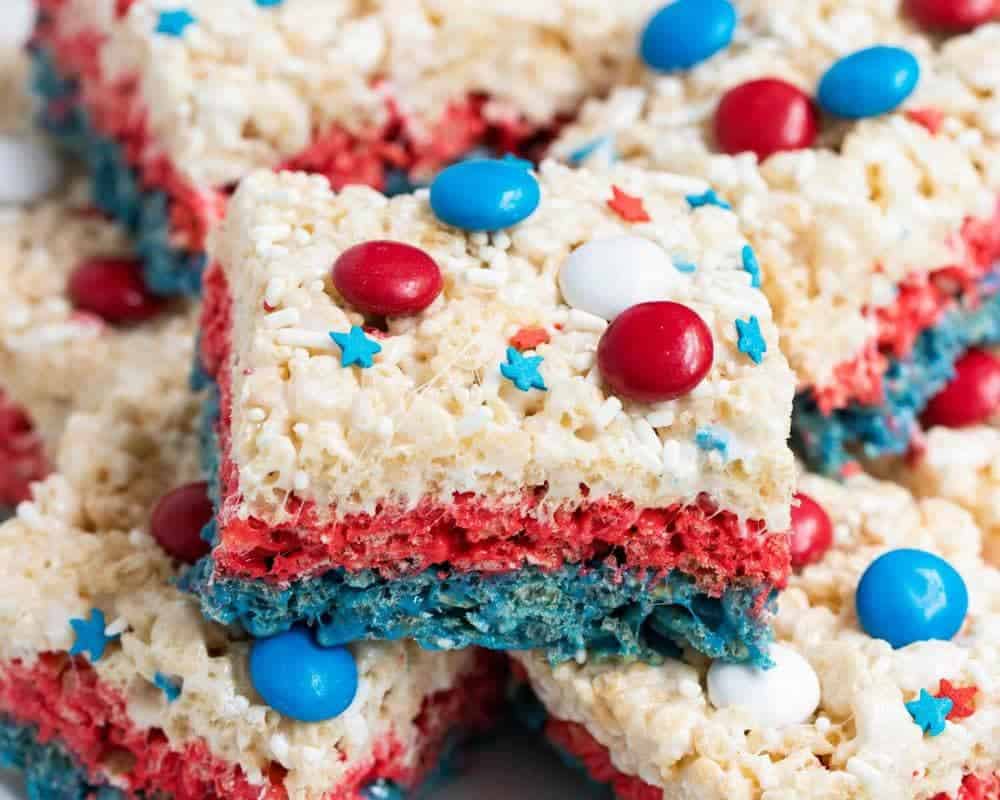 Would it truly be one of my holiday dessert posts without a Rice Krispie recipe? I don't think so. So here you have it! A super fun and deliciously patriotic rice krispie treat for everyone to enjoy! Love the layer of colors as well as the extra sprinkle of treats on top. It really adds to the overall festivity of the dessert! For the full recipe, check out Jamielyn's recipe on I Heart Naptime's site here.
3. Firecracker Red, White and Blue Cake By Arlene Cummings From Betty Crocker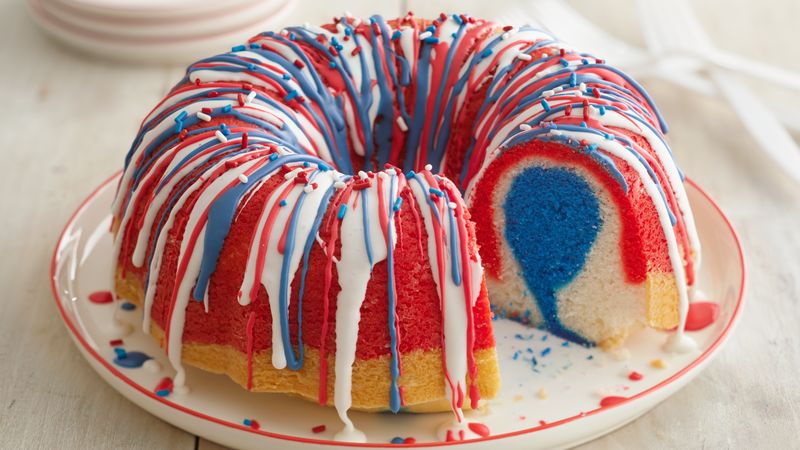 Another great dessert recipe that is bursting with vibrant patriotic colors! I love these style of Bundt cakes because you never have to worry about getting the frosting 'just right.' This firecracker cake allows you to be creative and have a little messy fun while doing it! For the full recipe by Arlene Cummings, check out Betty Crocker's site here.
2. Patriotic Berry Trifle By Sunny Anderson From Food Network Magazine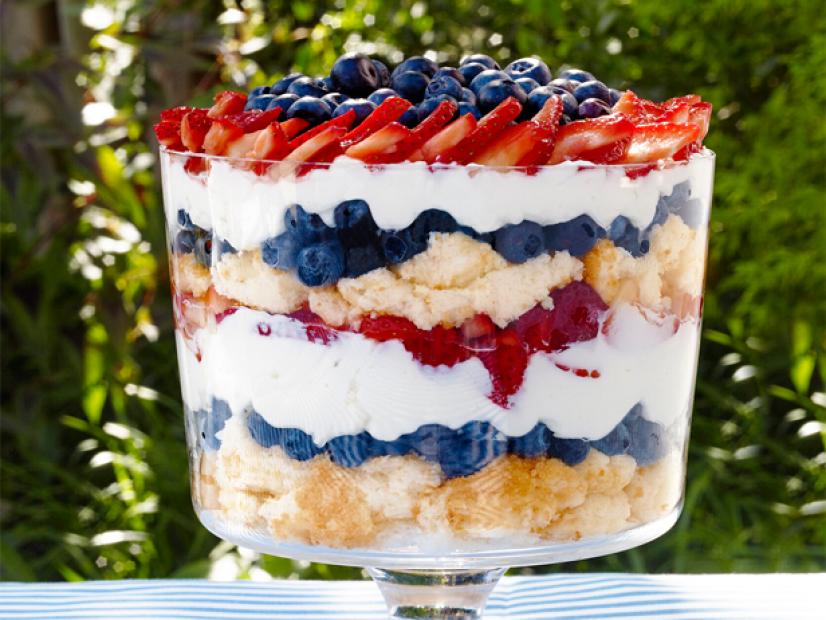 I feel like when it comes to summer, cookouts and the 4th of July in general, there is always at least one trifle recipe present at every get together. It truly is the perfectly refreshing summer treat! I love this festive twist on the classic recipe and knew I had to include it in my top two for this post! For the full recipe by Sunny Anderson, check out Food Network Magazine's site here.
1. Angel Food Flag Cake From Life, Love & Sugar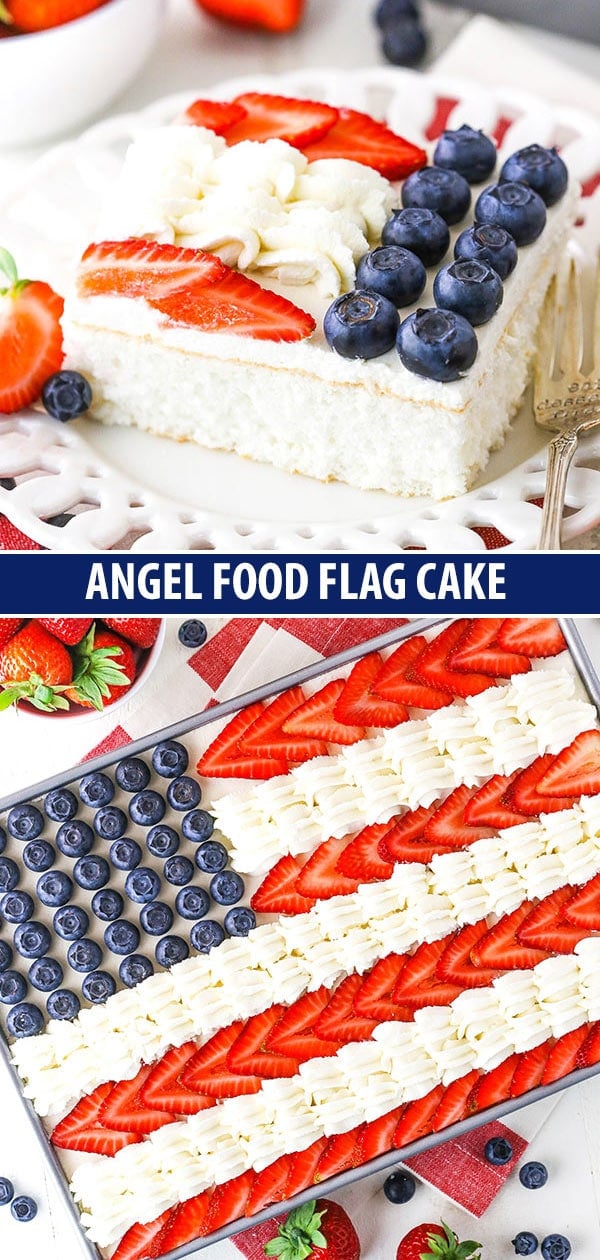 Now for last, but certainly not least! *Drum roll please* What I believe to be the absolute staple of summer festivities: angel food cake with whipped cream and fruit!! I absolutely love the light tasting sweet flavor of this dessert and it's definitely one that will sit well in your stomach even on the hottest of days! I love the creativity of the flag creation in this recipe in particular so for the full how-to, check out Life, Love & Sugar's site here! Enjoy baking everyone!