Alright everyone! Grab those beakers and skull shaped glasses because today's the day! This is NOT a drill! It is officially the spookiest day of the year and what better way to spend it than spookin it up with one of these amazingly 'boo'zy cocktails!? Whether you'll be sitting on the couch watching a movie while waiting for trick-or-treaters or getting your costume ready for a night out, these cocktails are sure to get you into the spirit! HAPPY HALLOWEEN EVERYONE!
15. Halloween Vampire Cocktail from Self Proclaimed Foodie
A classic cocktail with a 'haunting' twist! Check out how to make these crazy cool Vampire drinks with some good old sweetened raspberry puree blood from the Self Proclaimed Foodie on their site here!
14. Poison Apple Halloween Cocktail from The Seaside Baker
I love all things green apple flavored and just this drinks coloring alone is drawing me in! I think this might be the one for me to try on Halloween this year! For the full recipe, check out The Seaside Baker's site here!
13. Halloween Cocktail: Mr. Hyde Potion from HGTV & Sam Henderson
"This spirited Halloween drink might just be a life-changing experience. The potion is full of herbaceous flavors and a kick that will bring out the party monster in your guests." Sounds good to me! Plus the name is fun, I wonder where Jekyll's drink went. For this drink recipe along with some other creations from Sam Henderson, check out his full list on HGTV here.
12.Black As Your Soul from Cooking With Amber
"Black As Your Soul is a fun Halloween Cocktail made with lemonade, Bacardi Gold and a pinch of activated charcoal for a spooky-good party drink served in a coupe cocktail glass." Talk about taking some cool twists on some newer trends with the activated charcoal! For the full recipe & directions, check out Cooking With Amber's site here.
11. Bloody Mummy from Set The Table
Need to start the cocktails off a little early? No problem, Set The Table has you covered with this breakfast/ drink combo that's 'wrapped' into one! It'll have you screamin for your Mummy when you're done. For the complete recipe, check out their site here.
10. Pumpkin Spice White Russian from The Cookie Rookie
"This White Russian Cocktail puts a fun twist on a classic drink. Add pumpkin spice creamer to make it a Pumpkin White Russian, and enjoy a tasty fall cocktail!" For those of you out there who like White Russians (not me even with pumpkin spice added sorry y'all) then this is the one for you. Add a little bit of fall to your usual favorite. For the full recipe from The Cookie Rookie, click here.
9. Pomegranate Poison Spritz from The Good Housekeeping Test Kitchen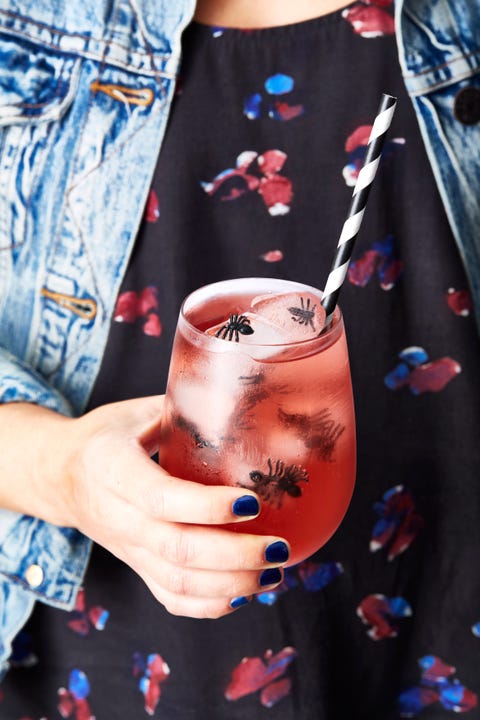 Looking for something extremely simple and easy to make but want to add a 'chilling' twist? Try some plastic spider ice cubes! Check out how The Good Housekeeping Test Kitchen did it here.
8. Beetlejuice Cocktail from Bread Booze Bacon
Talk about a drink with character! "Scare up some fun on Halloween with this frightfully fruity Beetlejuice Cocktail! Made with raspberry liqueur, cranberry juice, and melon liqueur, this spooky Halloween drink will leave your guests wanting more!" Talk a look at how to make this spine-tingling recipe from Bread Booze Bacon (Damn Good Food) here.
7.Witch's Wicked Punch from Frank P. at Woman's Day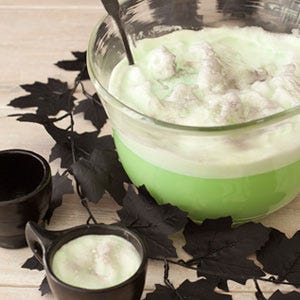 "This frightfully refreshing concoction is made from lemon-lime seltzer and lime sherbet. Be sure to use a clear punch bowl to reveal the ghoulish beverage." I love the idea of adding sherbet to give the drink that think and potion-like texture! For the full recipe from Frank P., check out the article on Woman's Day here.
6. Hocus Pocus Jell-O Shots from Lena Abraham on Delish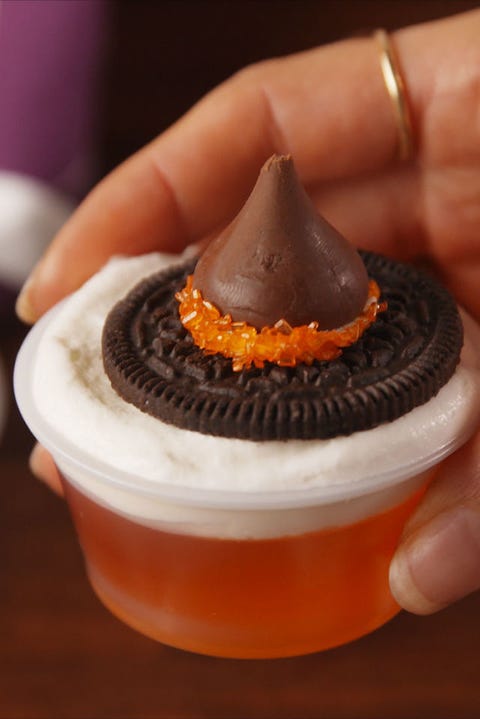 This shot is like a dessert with a little extra kick! Look how cute it is and we all know per usual I need to incorporate Hocus Pocus into these posts somehow! What creativity! For the full list of directions on how to make these little bad boys, check out Lena Abraham's article on Delish here!
5. Caramel Apple Pudding Shots from Lena Abraham on Delish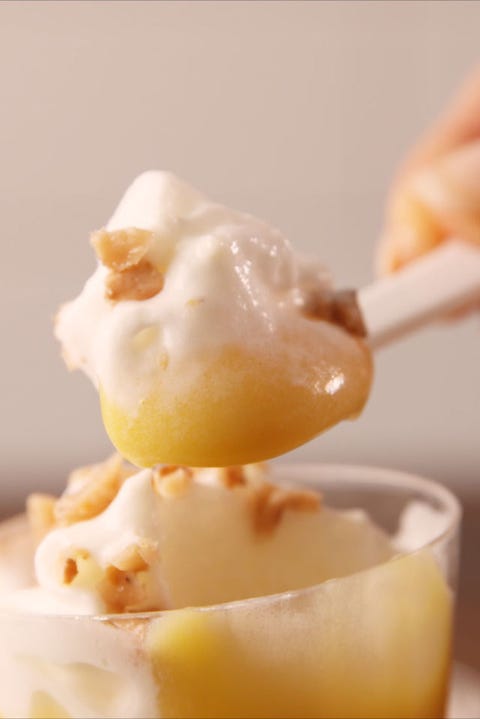 Okay I had to add this one in too because it just looked too 'delish'ious! Her creativity is so on point it's amazing and I bet you won't even be able to tell there's alcohol in this little guy until after it's finished! Good or bad on that note you decide. Check out how to make them here!
4. Boozy Butterbeer Recipe from Vintage Kitty
Had to add this one into the mix, especially after my time in Florida. While working in Orlando, even though I worked for Disney, the obsession with Butterbeer is crazy! I did finally try my ver yfirst Butterbeer during my first official day trip to Universal and I had mixed thoughts. I tried the Frozen one and I thought it was extremely good but it was a little too sweet to be able to finish the entire thing (and that says a lot coming from a girl who will add flavoring and additional Splenda to her coffee every morning). So maybe adding a little booze too it might tone down that overwhelming butterscotch taste? Well lets find out! For the full recipe, check out Vintage Kitty's site as well as her inspiration from a day in Universal here!
3. Candy Corn Martini from MANtitlement
Check out this perfect layered cocktail for all the sweet tooth, NON-candy corn haters out there. This recipe is great because it also gives you a great step by step guide as how to properly layer your drinks (for all you instagrammers out there, this is key). Check out the drink from MANtitlement here!
2. Glow-in-the-Dark Infected Brain Cocktail from Boulder Locavore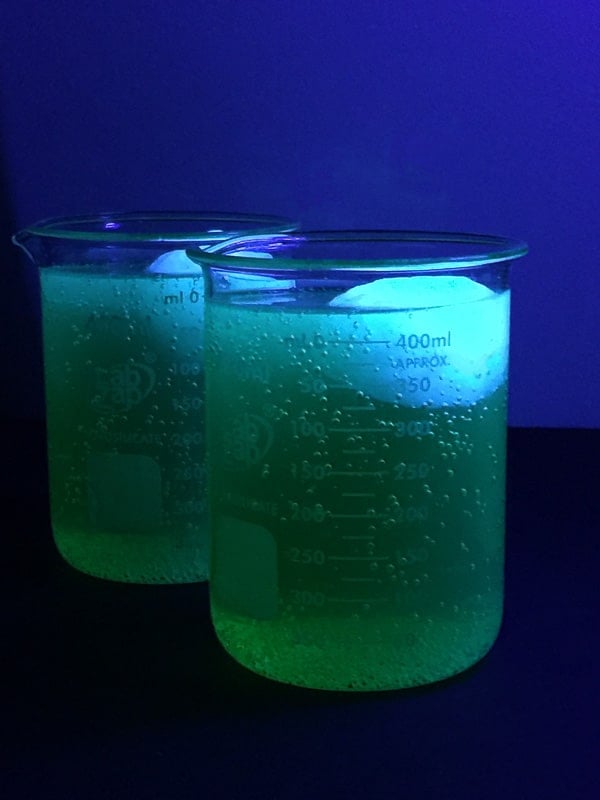 Not only do you get to have a delicious cocktail, but you get to gain some brain cells while ya do it! When have you ever been able to say that when consuming alcohol before!? For the full recipe, check out Boulder Lovacore's site here.
1. Toxic Shock Gelatin Shots from HGTV & Sam Henderson
Another great one from Sam Henderson to 'top off' the night. Try these 'electrifying' green jello shots to finish your night properly! For the full recipe, check out Sam Henderson's list here.
HAPPY HALLOWEEN EVERYONE! THANK YOU FOR TUNING INTO 31 DAYS OF HALLOWEEN!